Figma vs Sketch – What should go in your design toolbox?
8th Apr 2022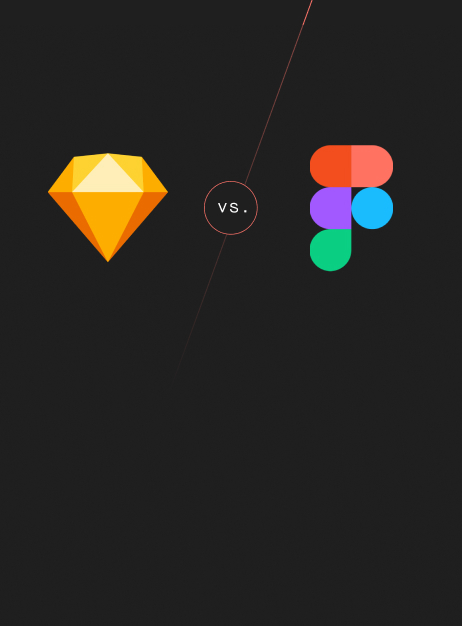 Figma and Sketch are notoriously known as industry-leading digital design tools, and by now have formed nothing less than a full-out rivalry. The tools have been fundamentally shifting the way we approach design. From being the very last step of a product cycle to integrating itself into the entire process.
And that's where Figma & Sketch came in, as described by the Creative Director of Unfold: "Comparing Sketch and Figma is like comparing Notepad and Google Docs." Each has its place in the world with its own pros & cons (some are more obvious than others).
The software is most notably used by UI (user interference), UX (user experience) developers and web designers as the preferred vector graphics editor. So, what sets them apart and which software should you be using?
What is Figma?
Figma is a cloud-based interface design tool, made with collaboration in mind. Branding themselves as an 'all-in-one design platform', Figma was introduced back in 2016. It quickly became one of the best tools for UI, UX, and web design – rivalling only Sketch. The software is browser-based, while also having apps available for Windows, Linux, and macOS.
The core focus of Figma is to make design accessible to everyone. By making design even more collaborative, borderless, transparent, community-driven, and open-sourced.
What is Sketch?
Sketch is one of the industry-leading software for web & interface design. Released in 2010, it became extremely popular amongst product designers. Even received the Apple Design Award in 2012. Additionally, Sketch is known to be more beginner-friendly and intuitive than some of its competitors.
Even though, Sketch is a native macOS app – the developers have begun building browser-based collaboration tools (focused on feedback & handoff) and working towards a seamless integration between native & browser-based apps. While trying to meet the demands of their massive (over a million) user base.
As an organisation, Sketch promotes being open, offering choice, empowering communities, and growing sustainably.
Key differences: Figma vs Sketch
UI and web design have been evolving quicker than ever. With industry-leading design tools seeing constant updates and new software popping up left and right – making the right choice keeps getting tougher. Even though Figma & Sketch are remaining clear market leaders, we're here to help you form your own opinion on which one should you choose!
Availability
Since Sketch was built as a native app – it is only available on macOS. An option to open Sketch files on windows exists, although you still need a Mac to edit them. More recently, the developers have introduced web-based applications for Sketch, but they're lacking behind Figma. Your options are quite limited, and apps are mainly focused on feedback and handoff parts.
On the contrarily, Figma was built with collaboration in mind, having the top of the line cloud compatibility and allowing real-time cooperation on designs (an online connection is required to access full functionality). Additionally, Figma is a web-based application that also has native apps for Windows, macOS, and Linux – it's as accessible as it gets.
Price
Figma pricing plans are more diverse and suited for a variety of situations:
Starter – is a free, but a more limited version of the software (although, if you're only using Figma for design – you won't feel that much of a difference). It's mainly suited for individuals or can be seen as a 'free trial'. You can only work on 3 Figma and 3 FigJam files.
Professional – $12 per editor/month or $15 if you're paying month-to-month. This version is tailored for small teams or individuals who want full access to Figma functionality. Including unlimited Figma files, collaboration tools, and team libraries. This package is also available for free for students and educators.
Organization – $45 per editor/month (billed annually). The package includes everything from the previous ones, as well as giving access to org-wide libraries, design system analytics, private plugins, and much more. You will gain all the functionality Figma has to offer as a software.
Enterprise – $75 per editor/month. Enterprise package includes everything from the previous ones as well as access to hands-on training by Figma experts. The main selling point is the additional security and flexibility. By buying this package your business will be able to customise the software to tailor your needs individually.
Sketch pricing is much more straightforward:
Standard – $9 per editor/month or $99 per editor/year. The standard package unlocks all the core functionality of Sketch. Gaining access to native Mac editor and the web app.
Business – you're required to enquire with Sketch to figure out the exact pricing for your business. Although, it is only available in yearly billing and requires more than 25 editors. Business package unlocks unlimited cloud storage, single sign-on, live technical support, priority support, dedicated customer success manager, and there is an option for security reviews and customising terms.
Symbols & Components
Symbols and components are essential parts of both Figma and Sketch. Without the need to make changes one by one – the software allows edits to be simultaneously replicated across all pages. Although, the way symbols and components operate differs between the two.
On Sketch, once a new symbol is made it appears on the 'Symbols Page'. Afterwards, if you want changes to be applied across the project, you need to make those edits on the symbols page. Making the process very straightforward.
On the other hand, 'symbols' are essentially 'components' in Figma. The original components stay where you put them, instead of going into a separate page. All you need to do is copy the master component to create a new one. Moving forwards if you edit one of the components – the changes are streamlined throughout all the components.
The main difference between the two – Figma's components allow more flexibility and are more convenient to use, while Sketch's symbols are more organised but more restrictive.
Styles
Styles in Figma can be created individually for effects, strokes, colours, and even text. There is quite a lot of flexibility by allowing changes to be made separately and together. Let's say all your buttons are colour purple, but you've decided you want them green – you can change their colour without needing to adjust anything else.
While on Sketch, styles are much more restrictive. So, let's take the same purple button as an example. You will struggle to change just the colour, since the text, drop shadow, and button design will be held together. In other words, you can't use the already used style on other elements without changing it.
Collaboration
Figma was built with collaboration in mind. That's one of the things that sets it apart. Even though, each software has real-time collaboration as a feature – Figma's version is more perfected. For instance, allowing designers to jump on a call straight in the design file while working on it.
Not only that, but Figma has community at the heart of their collaboration features. Making it easy to exchange design elements between individuals. Additionally, there is a whole library of free resources on Figma, which is fuelled by the community.
Sketch collaboration is lacking behind. Although, they launched 'Sketch for Teams' back in 2020, to allow participants to view and edit Sketch files.
Prototyping
Figma prototyping feature was made to easily link UI elements. Allowing you to choose what animations and interactions you want to be prototyped, like what happens once a button is pressed or hovered over. Additionally, Figma is cloud-based allowing frictionless sharing & mobile viewing using their mobile app. The prototypes are also easy to edit and give/receive feedback on.
Sketch prototyping works somewhat differently. Regardless, of its native prototyping features – often, designers use 3rd party software for prototyping on Sketch. From our experience, after completing the design on Sketch, you continue onwards to Invision to complete the prototype. Thus, making the process not as effortless as in Figma.
Plugins
Plugins are an amazing feature for Sketch since they help fix a lot of the features that are lacking. There are loads of different plugins available, partly because Sketch has been around for a while. While Figma's plugins only launched in 2019 – they've caught up and exceeded the expectations set by Sketch. Not only is their plugin library humongous, but the quality is also unmatched.
To install a Sketch plugin – you need to download a ZIP file, extract it, and place it in the right folder. In other words, ew. Figma offers a much more convenient option, installing a plugin is a 1 click job.
Finding plugins is also made much easier on Figma. While on Sketch you will most likely need to go on GitHub to find any available plugins – Figma has a built-in tab for them. You can install new plugins without the need to leave the app.
Our verdict
After analysing both apps and consulting our strongly opinionated design team, we are proud to present our very own verdict on Figma vs Sketch.
Aaaaaand the winner is… Figma!
Figma proved to be more convenient to use and is better suited for our design needs. We're not saying that you must use Figma. But if you're trying to decide between the two – you know where we stand. The software design & prototyping capabilities stand out especially. With their collaborative and community-centred ideas leading the way!
Keep reading
We've got even more great content!