Summary of the Latest SEMrush Updates (2022/2023)
2nd Mar 2023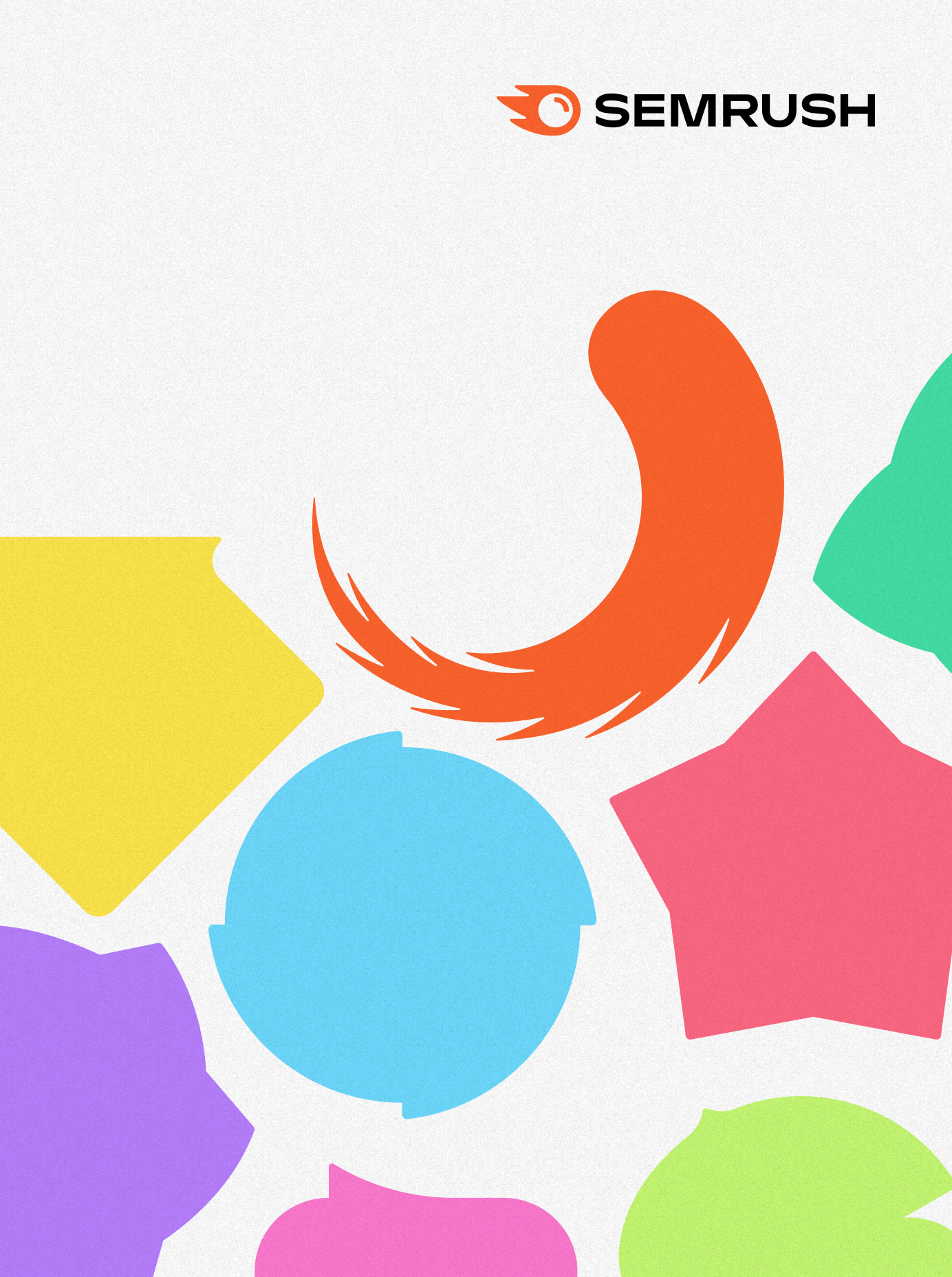 SEMrush, one of the top digital marketing tools on the market, is continually developing and introducing new features & tools to aid businesses in enhancing their online presence. And on this occasion, we'll look more closely at some of SEMrush's most recent changes across 2022 & 2023 and how can they help you.
The updates, which include new tools and improved capabilities, are made to assist you in staying one step ahead of the competition and achieving your digital goals. So, whether you're an experienced user of SEMrush or are just getting started, read on to learn about the most recent updates.
New and Improved Backlink Audit
As most practitioners could testify, nailing backlinks is one of the most complicated parts of an SEO strategy. And that's why the new 'Profile Insights' update is focused on – making managing your backlinks easier.
Now users will be able to analyse and identify problems with backlinks in a more efficient way. Leading to quicker insights & suggestions for backlink strategy improvement.
What does it mean for you? Essentially, it will be easier for you to look at how healthy the backlink is. There is also an improved reporting function, which leads you to the Backlink Audit tool and applies all the necessary filters automatically. Presenting you with a clear view of the data and, more importantly, with actionable insights on how to keep your backlink profile in good condition.
The insights themselves are colour-coded: red – fix ASAP, orange – potential problems that require attention, and blue – individual project settings (you need to set it up yourself).
To put it in simple terms, the backlink audit update showcases what you've to deal with and why.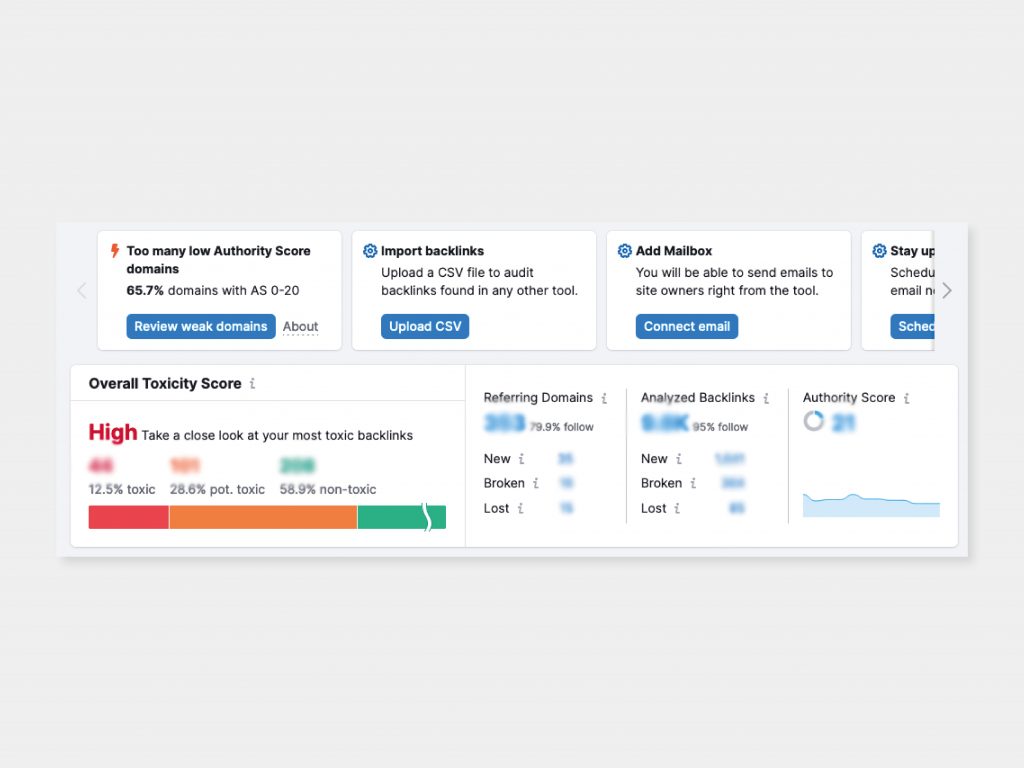 Backlink Network Graph Report
Another improvement to backlink tools was the addition of the new Network Graph report. The graph itself is an interactive network of domains that highlights: chosen website's most substantial referring domains, 2nd & 3rd tier links that have the potential for outreach, and occurrences of link manipulation tactics.
Fundamentally, the graph acts as a quick visual aid to see how strong the website's connections with other domains are as well as suggest new backlink opportunities to pursue.
If you're interested to learn more, read SEMrush's article on the Backlinks Network Graph Report – it covers the basics as well as how to use it.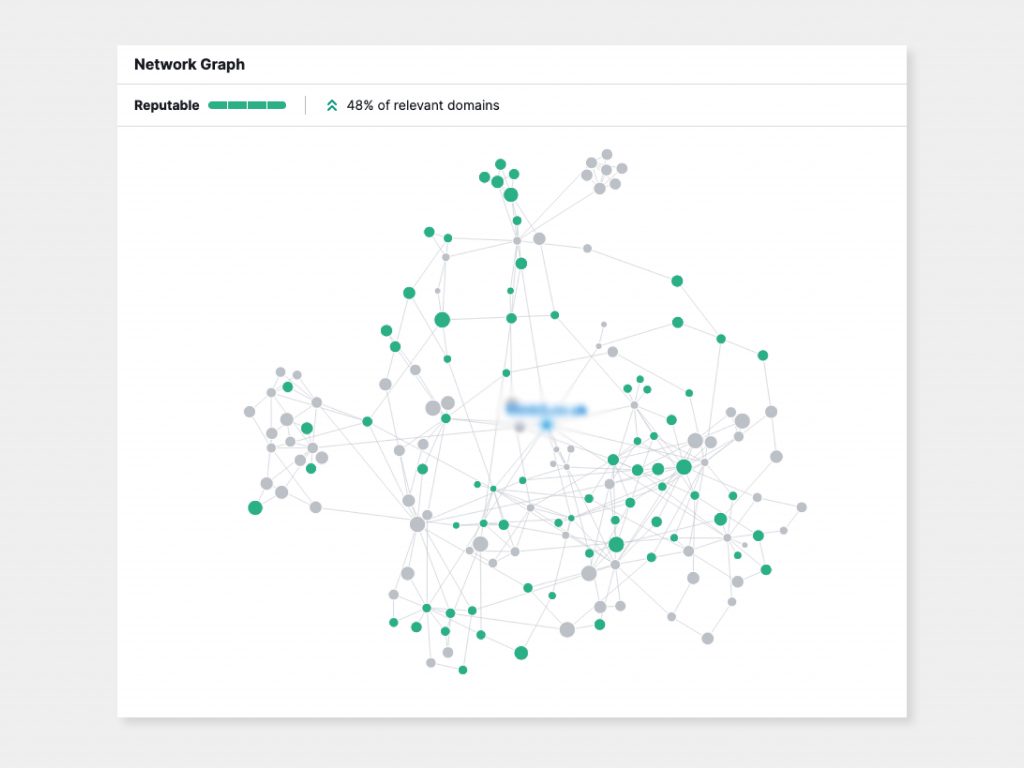 More Accurate Search Volumes in the UK
SEMrush added new data sources to improve its machine-learning algorithm that predicts search volumes – making it more precise. The UK database was increased by 45%, from 894 million to 1.3 billion keywords.
Overall, creating a more accurate tool to help with your SEO strategy.
New Market Explorer Feature – Business Categories
The new data-gathering feature is focused on providing access to broadscale data & helping you develop big-picture insights for any one of the 110 industry categories available, like retail or healthcare.
This update unlocks an efficient method of researching different sectors to see the big picture. So, information like market size & share, competition levels, and even industry leaders is present. You can also compare and identify the market players based on acquisition channels, traffic trends, and audience demographics.
All in all, this is an excellent tool for market research. Whether you're already present in the sector or trying to enter – SEMrush Market Explorer will help you develop data-driven marketing strategies.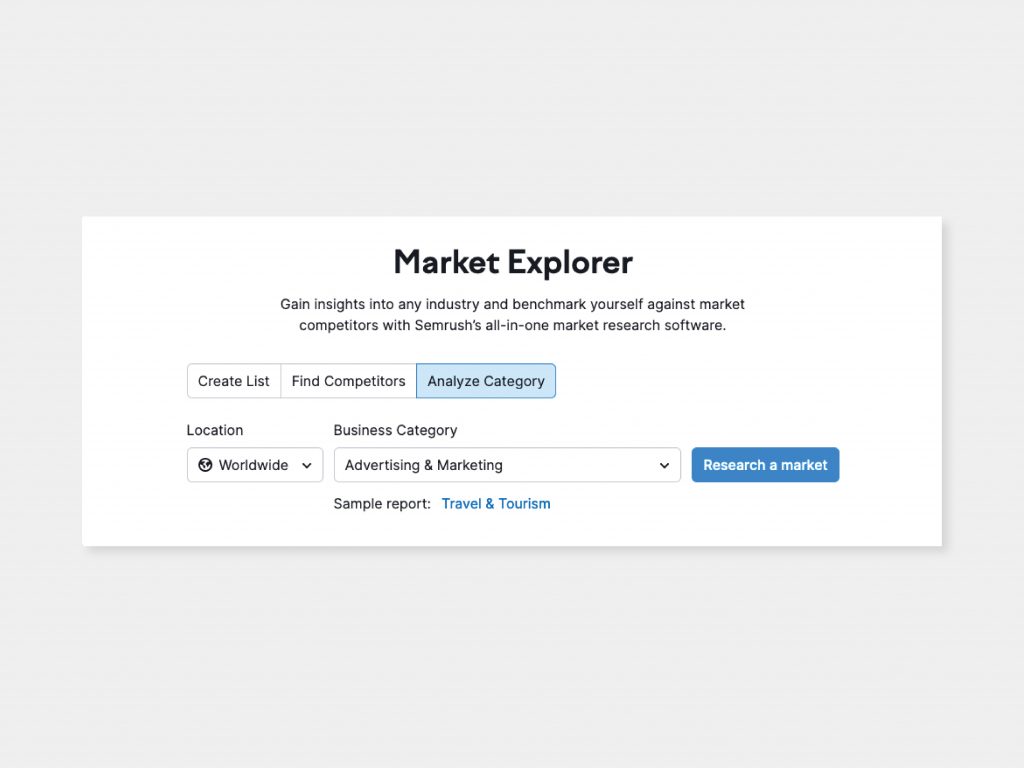 New Tool – Content Outline Builder
SEMrush has introduced a brand-new tool – Content Outline Builder. With the purpose of saving time in creating outlines for SEO-focused blogs. It utilises an AI algorithm that analysis best-performing articles and forms a detailed outline in minutes.
Moreover, the user isn't required to dive deep into the keyword or competitor research, since the tool does it for you. It not only gathers insights but also provides recommendations.
This tool also does wonders in supporting writers' work – without being an SEO expert, writers can access SEO-optimised outlines of desired topics. Especially improving the content creation processes for smaller businesses/teams.
In short, the tool is perfect for writers with minimal SEO support. And it provides a wide range of information to support content creation:
Overview of the topic – headings, subheadings, FAQs
Suggested keywords for best performance
Insights on trending topics
Details on the direction of the content – ideal word count, tone of voice, readability, etc.
Data & facts related to your topic
Other articles, to see what the competitors are doing
Wix's SEMrush Integration
Granted, this is only relevant to users whose website is hosted by WIX, nevertheless, the new integration will provide access from the extensive SEMrush keyword database to over 200 million users.
Essentially, the integration allows Wix users to access SEMrush's SEO keyword data within the platform itself. This accompanied by valuable insights can help users to identify the correct keywords for their content and improve their overall search rankings. However, the free daily limit is only 10 words, otherwise, you'll require a paid SEMrush account.
Wix's SEO checklist also now incorporates this integration, as well as other actionable steps and educational resources, for example, a blog on how to do keyword research with the SEMrush integration.
New SEO Writing Assistant Feature: Document Sharing
A brand-new feature was introduced to the SEMrush SEO Writing Assistant (SWA) – allowing users to share documents with specific individuals on the platform. Presenting a more streamlined approach to managing and distributing workloads.
Now, users can share documents via email, managers can oversee & manage their personnel output, and establish smoother collaboration between parties, for example, agencies and clients can work together within the SEMrush platform itself.
Improved Traffic Data
During 2022 SEMrush added a number of new data providers to support their database. Which, in combination with improved algorithms, allows for more precise insights.
More accurately, the prediction model was refined to provide more consistent and accurate data. Mobile and total traffic numbers are now based on improved data. And a recalculation of historical mobile data (from April 2021 to November 2022) was conducted with a more balanced forecasting model.
Overall, presenting users with higher quality data to drive marketing & business decisions.
Updated Authority Score
One of the first updates of 2023 was the introduction of the new and improved way SEMrush calculates Authority Score, increasing the quality & trustworthiness of website measurements.
The three core factors that go into calculating the Authority Score can be now seen for every domain, allowing you to know the exact reason for the score:
Link Power – the overall number of quality referring domains
Organic Traffic – the estimated total monthly organic search traffic
Natural Profile – the quality of the domain's backlinks, compared to its spam factors and signs of link manipulation
Final Thoughts
After all, SEMrush is one of the market leaders for a reason. Their consistent strive for improving the platform, development of new features, and a wide range of integrations with 3rd party apps are helping marketers work more efficiently than ever before.
If you want to keep on top of SEMrush updates, make sure to follow their Product News. Or alternatively, if you're looking for some SEO support for your business – feel free to get in touch with our team of experts.
Keep reading
We've got even more great content!