We've poured ourselves a triple shot of talent
15th Jun 2021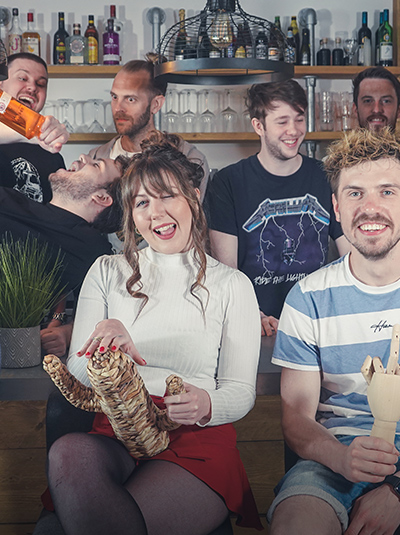 To keep up to speed with the huge growth we've had over the past year, we've added, not one, not two, but three new recruits to our ranks. With our lovely clients putting more focus in to online presence, we've pulled together a cocktail of SEO & PPC experience, a dash of strategic marketing knowhow and a slice of 3D product visualisation artistry.
First up to the plate is Wayne. He joins us with bags of industry marketing & commercial experience. Not only will Wayne give us a kick up the backside on moving us forward as a business, but he'll also be rocking up to clients' gaffs, pulling together marketing strategies and talking all things commercial. Catching up with Wayne, he said, 'after meeting with Lee, Grant and Gaz, their ambition to become the best digital agency in the Midlands was clear to see. Working in industry can only take your marketing expertise so far; joining think3 will take this to the next level.'
The second recruit thrown into the mix is Stephen, a bit of an SEO guru. When we looked at ways to build our services, considering what our clients were looking for, SEO was the obvious choice. Stephen brings with him over 10 years of SEO experience, working across a few different agencies. Luring Stephen away from his laptop, he said, 'When I first walked in here for an interview, I was like, 'This is the atmosphere I'd love to be in, I need to get this job and be part of the team'. Now, I'm excited and happy to be part of the growing team. It's been a great experience for me!'
And rounding things off, Will joins us as a Digital Designer, with expertise in 3D visualisation & animation, and bundles of enthusiasm. The dark arts of 3D design are something that goes over the majority of our heads. Will is tasked with bringing out clients' products in a totally unique way. On joining us, Will said, 'think3 seemed like a great bunch of awesome talent. Adding my skills into the mix, we'll be able to produce magical designs for our clients.' He's a man of very few words!
We pulled Grant away from the bar for a comment, he said:
After our recent office move and another couple of award wins (Yes, we're that awesome!), I'm chuffed Wayne, Stephen and Will are joining the team. Adding more brainpower gives us the chance to offer our clients more bang for their buck. This time last year, we were told we were crazy to invest in a new studio; we were either ahead of the game or committing to something we'd never benefit from. As we look forward to the rest of the year, turns out we're ahead of the game 😉 !
Grant, Creative Director
This wraps up the update. We're growing, we're getting better, and the journey continues; but for now, we're going back to the bar!
Keep reading
We've got even more great content!