What is Facebook's New Advertising Policy and How Will it Affect My Ads?
8th Feb 2022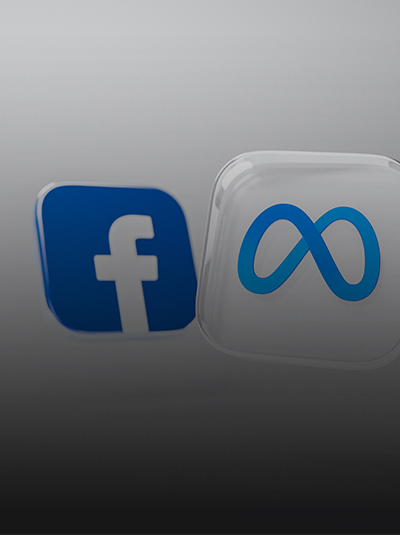 Facebook's parent company, Meta, has been slowly scaling back their targeting options. Facebook has gathered a lot of negative press and social pressure in recent years. Which has forced them to start changing.
One of the biggest benefits of using Facebook Ads has been the ability to target customers with precision, which allows businesses to create extremely personalised social advertising experiences. This helps with engagement and conversions. Although, more and more people are becoming aware of their privacy – lack of it online. Which in turn is forcing Facebook to limit their targeting options and adjust advertising policies.
So, what are the most recent changes in Facebook advertising policy and how will it affect advertisers using it?
What are the new targeting options for Facebook Ads?
Facebook new advertising policy went into effect on January 19. Facebook has removed certain targeting categories, that are perceived as 'sensitive'. This was done to reduce the chance of negative experiences for people in underrepresented groups. These categories include:
Health causes (e.g., "Lung cancer awareness", "World Diabetes Day", "Chemotherapy")
Sexual orientation (e.g., "same-sex marriage" and "LGBT culture")
Religious practices and groups (e.g., "Catholic Church" and "Jewish holidays")
Political beliefs, social issues, causes, organizations, and figures
These changes are seen as positive by many; unfortunately, they might have a negative effect on small businesses and non-profit organisations. Facebook's solution to this has been committing to helping these groups in different methods. Some of the tools recommended:
The changes are going to be fully set into action from March 17.
What does this mean for advertisers?
Facebook new advertising policy changes won't affect the core functionality of Facebook Ads. This means that most of the businesses won't feel any everlasting effects and for the businesses that will be affected, Facebook's solution is Engagement Custom Audiences that can target people who have interacted with them previously. A way to reach very similar groups of people as before.
iOS 14 Changes
On other big news, the iOS 14 update seems to have a reasonably large effect on Facebook ads. What changed? Well, Apple now requires apps from the App Store to outline all their tracking activity and upon opening an app, users will see a pop-up window with an option to 'Ask not to Track'. This gives users more control over their digital footprint.
Once users chose to not opt-in, it stops companies from tracking users that were identified for advertising. This means that Facebook can't track user behaviour online and that Facebook ads targeting options will become more limited.
All of this will produce less personalised targeting.
The iOS changes have been received very positively by the public, but businesses haven't been as happy with it. With iOS consistently holding around 50% of the smartphone market share in the United Kingdom – it limits advertising options for around half of the country's population.
But no need to get too worried, Facebook has introduced 'Aggregated Event Measurement' to battle the new iOS update. This new feature is designed to help advertisers measure campaign performance in a way that is consistent with Apple's data policies.
The important thing to keep in mind is that even though this affects advertising for iOS users, Android still maintains around half of the smartphone market share in the UK and most importantly a strong majority worldwide.
How will the iOS changes affect advertisers?
Due to limited cross-platform tracking, expect lower conversions. Not because there are less conversions, but it's just harder to award those conversions to Facebook Ads.
Real-time reporting won't be possible anymore. Data of iOS users may be delayed for up to 3 days before showing up in analytics.
You will be able to track no more than 8 conversion events. Even though, this won't affect most campaigns, for those select ad campaigns that utilise a lot of conversion events – will in turn make them harder to track.
Smaller retargeting pool – conversion window for iOS users is 7 days, rather than the usual time limit of 28 days.
It will become harder to run Facebook Ads based on value optimisation. Since value optimisation requires at least 100 conversions in the last 7 days, instead of previous 28 days.
Facebook advertising changes for Jobs and Education
To avoid discrimination, Facebook Ads won't be allowing advertisers to utilise detailed targeting for Ads related to Jobs or Education. Additionally, you won't be able to target under 18-year-olds on their activity or interests. This was changed as an answer to public outrage of influencing underaged people and possible discrimination against certain demographics. For example, higher education establishments won't be able to target underage people while trying to recruit potential students.
These changes are seen once you're creating a Facebook Ads campaign and have to pick 'Special Ad Categories' and choose the 'Employment' category. Facebook outlines this category as "Ads for job offers, internships, professional certification programs or other related opportunities".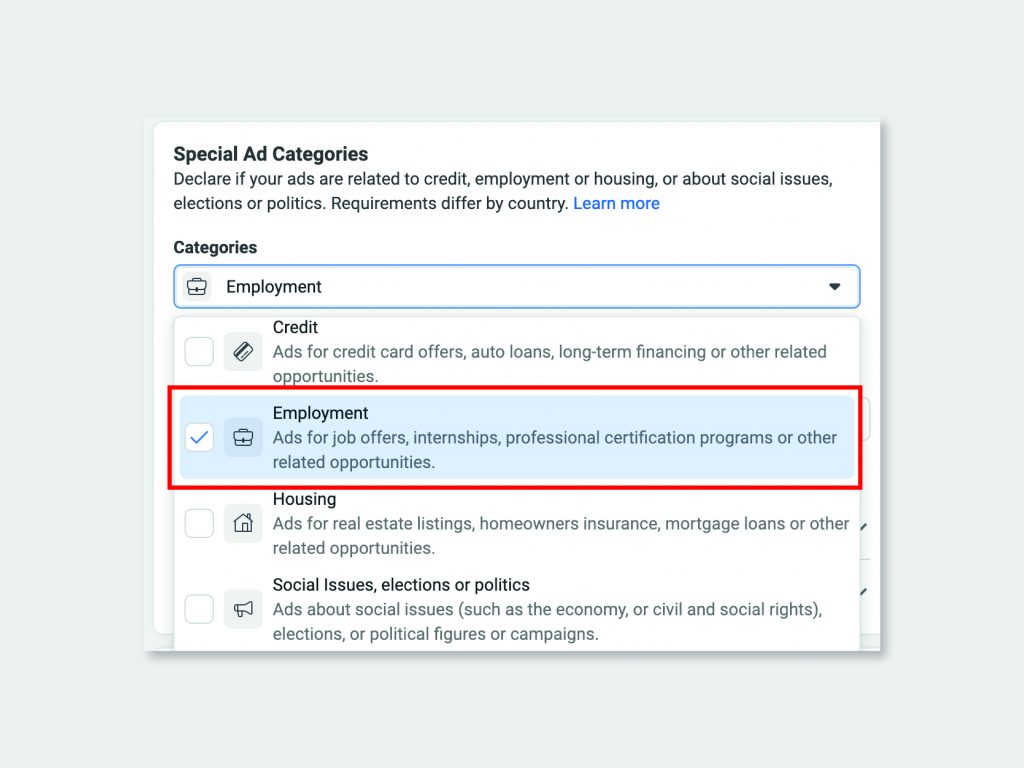 What do these changes mean for advertisers in Recruitment/Education sectors?
In the nutshell, these changes make it more expensive to advertise anything job/education related. Since you can't utilise detailed targeting to its fullest.
You can't target anyone under 18 and you can't target people based on age, gender, and most of detailed targeting functionality is turned off.
Advertisers can still use interests, but there are a lot of limitations on detailed targeting for this category.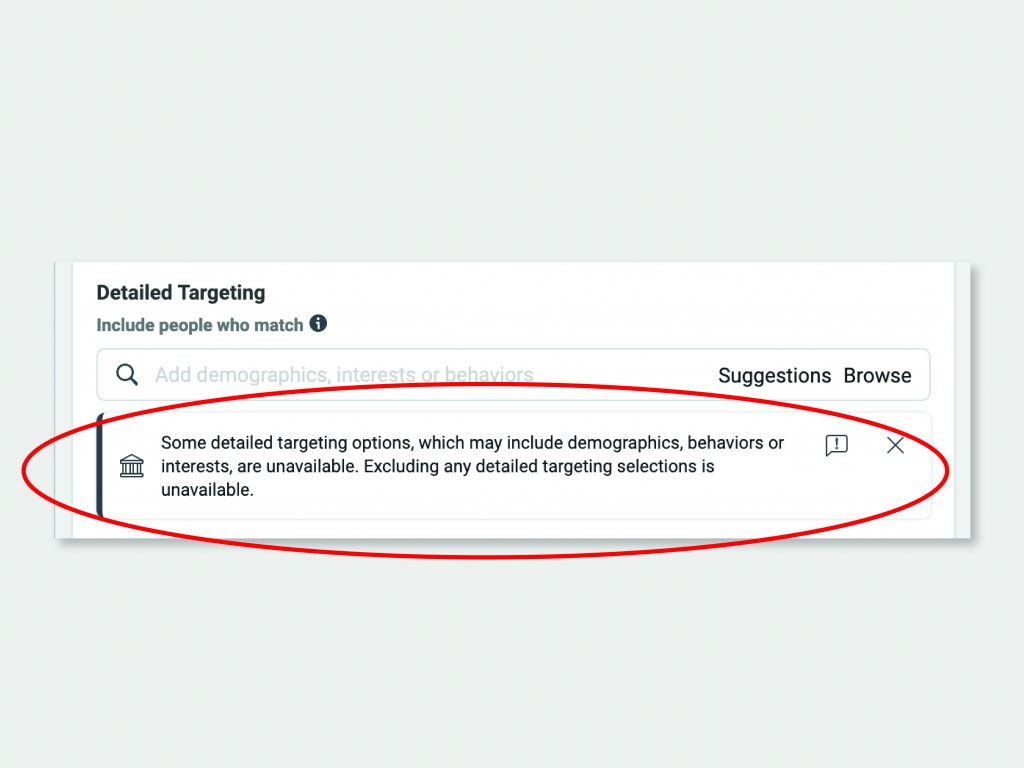 Key Takeaways
People are becoming more and more aware of their data online. If a product you're using is free – you're the product. In this case it's your data and behaviour online. We can expect Meta to continue scaling back their detailed targeting services to battle public outrage and carry on introducing new advertising policies for Facebook.
Facebook has seen their user base drop for the first time ever – a decrease of around 1 million daily active users between Q3 and Q4 of 2021. This means that stakeholders will be looking for changes and the biggest worry from the public around Facebook has always been lack of data privacy.
Apple vs Facebook has been an ongoing 'battle' between the two tech giants. Apple making a big push towards reclaiming personal data is not the best news for Meta. This will lead to less precise targeting for iOS users, even though Facebook keeps finding ways to go around it – we can expect more restrictions coming from Apple in the future.
Facebook Ads won't change in functionality. They will just become less cost-effective for certain sectors. For instance, if you're advertising a university course you will be forced to target people of all ages – which will most likely affect your 'cost per result' or 'return on investment'. Although, the good news is that these changes won't affect the majority of advertisers.
Keep reading
We've got even more great content!