What is social commerce & why should you care?
7th Jul 2022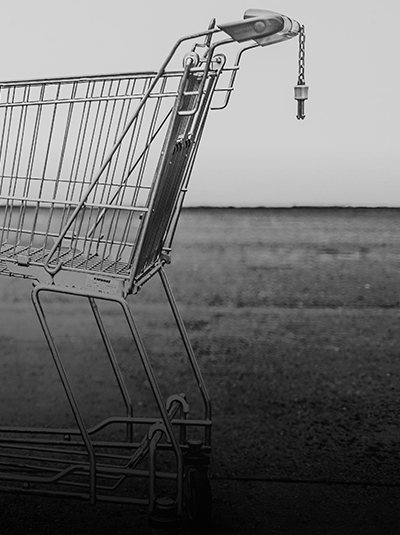 Even if you aren't aware of the social commerce definition, you've probably experienced it first-hand already. Just think about Facebook Shops.
Social media giants are pioneering the way of social commerce. And they aren't showing any signs of slowing down. While current numbers are set at around $958 billion for 2022. Social commerce yearly sales are projected to pass $2.15 trillion by 2025.
Those are some hefty sums that should be hard to ignore. Especially if you already have a foot in e-commerce – social commerce could be the next big step.
So, in this blog, we're going to:
explain what social commerce is
highlight the key differences between social commerce & e-commerce
present the benefits of social commerce
give a rundown of which social media platforms are available for sellers
What is social commerce?
Social commerce is defined as buying/selling products or services directly on social media platforms.
Although, a mix of social commerce & e-commerce is another popular option. It shows in a form of integrating social media into the e-commerce funnel (e.g., sharing products on Instagram Shop and redirecting people to complete a purchase on your website).
In other words, social commerce is all about providing the entire buyer's journey within a social media platform. From discovery to purchase.
Social commerce vs e-commerce
E-commerce is considered as selling products/services online through a website or a mobile app. While social commerce is about selling products/services within social media.
Another way to look at it – social commerce is taking a mobile-first approach one step further. One of the key problems with e-commerce sales on mobile vs desktop is the cart abandonment rate (69.75% on desktop vs 85.65% on mobile).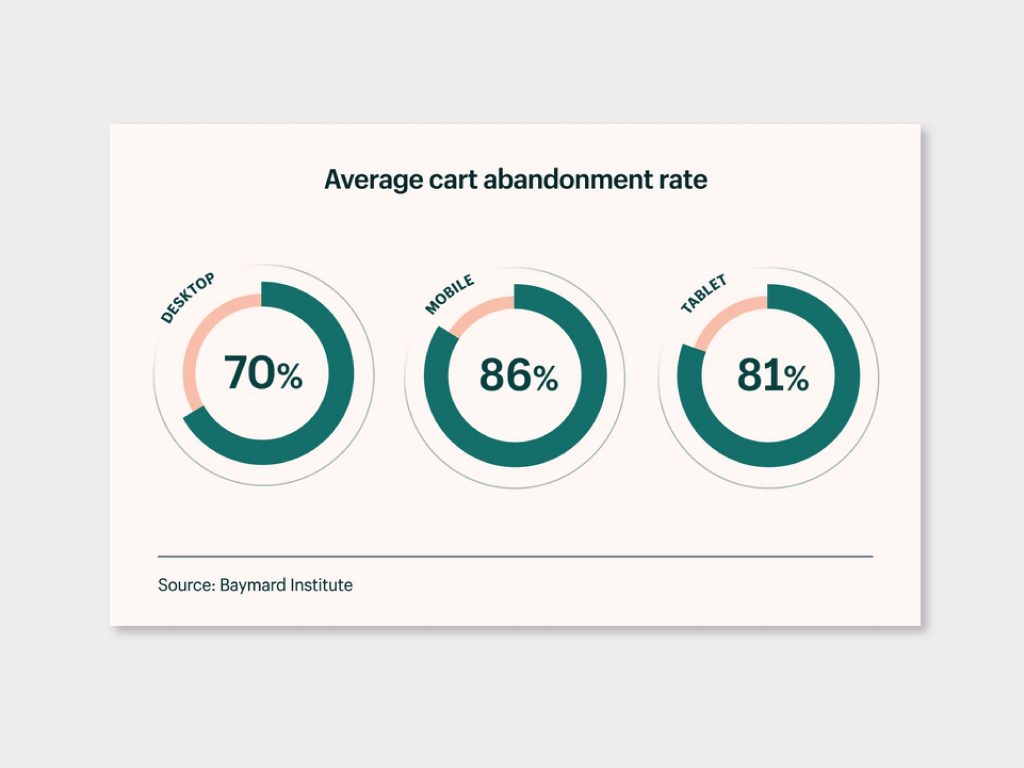 That's a 15.9% difference between mobile & desktop. Which can mean that you're losing out on a lot of money by not tailoring your commerce business to mobile users.
Having a mobile app can increase conversion rates exponentially – 160% more users convert on mobile apps, compared to mobile websites. But building a custom app is not an accessible option for all businesses. Especially SMEs, for which setting up a store on Facebook or TikTok would be much more achievable than building their own app.
This is precisely what social commerce is trying to solve. Being able to discover new products and buy them on social media apps directly – provides opportunities for SMEs to sell successfully on mobile.
Moreover, mobile apps tend to convert 43% more users than desktop alternatives. And we've seen e-commerce giants like Shopify move onto the mobile app space with their 'Shop' app. Making it easier to discover new products & complete checkouts.
So, e-commerce has existed on mobile for ages, but we can see that the biggest drawback of it is the checkout process. Which mobile apps & social commerce can solve.
To put it frankly, social commerce and e-commerce are after the same thing – sales. The thing that differs is the method in which they sell. Although, we can expect these two to continue being closely related moving forward.
Benefits of social commerce
Now we know what social commerce is and how is it different from e-commerce. But if you're still not convinced – here are some benefits that it can bring to your business.
Better checkout experience a.k.a. higher conversion rate
One of the reasons why social commerce came to be is that around 50% of all website traffic is through mobile devices. And apps, especially social media platforms are much more convenient to use on your smartphone than a mobile version of a website.
Additionally, as highlighted by the SaleCycle report on e-commerce statistics & trends – conversion rates tend to be lower on mobile than on desktop or tablet. Nevertheless, users tend to add more items to check out carts on mobile.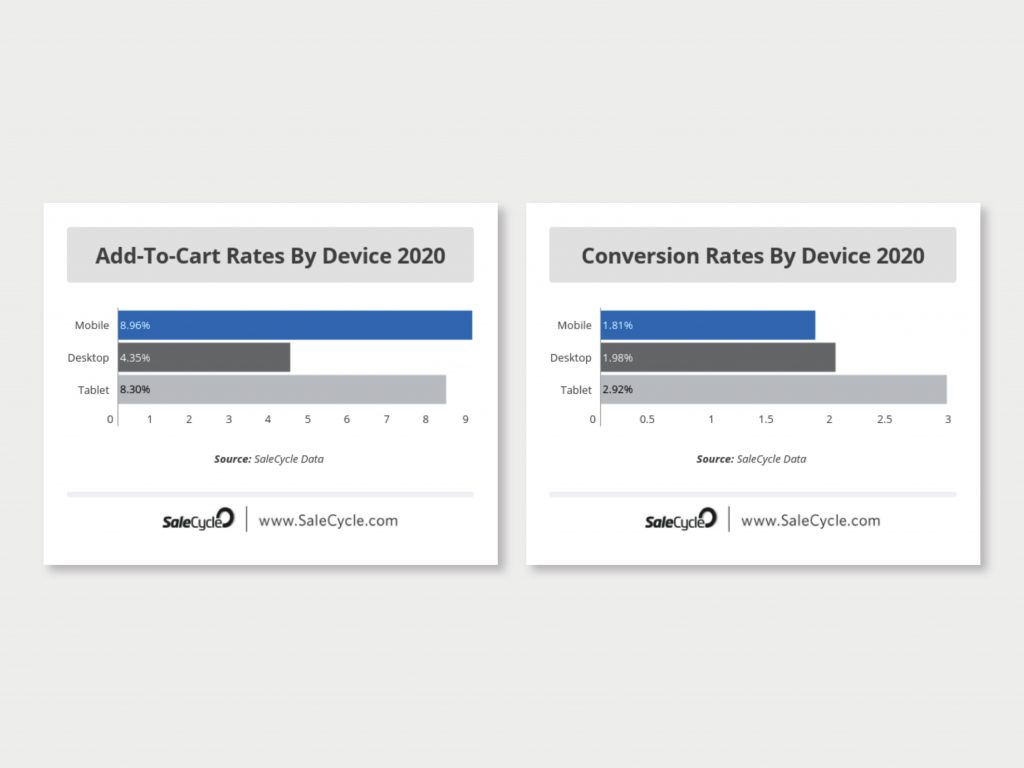 So, more people come close to completing a purchase on mobile, but fewer people covert than on desktop or tablet. That means there must be a disconnect somewhere within the buyer's journey. More specifically the checkout process.
And that's precisely what it can help with – presenting users with a frictionless purchasing process. Resulting in higher checkout rates.
Access to the convenience that (social media) mobile apps bring for SMEs
As we've mentioned above – mobile apps convert 160% more users, compared to mobile websites. Shocking, isn't it? But if you think about it more, it starts to make sense.
Do you notice how unnatural and annoying it often feels to navigate mobile websites, compared to mobile apps? Just try checking out on the Amazon mobile website vs the Amazon app – it's impossible not to notice.
There is a reason why almost every e-commerce enterprise has their own mobile app (e.g., H&M, Asos, etc.). Because it's a smart business decision through and through.
Although, there is one drawback surrounding mobile apps. The cost. Of course, it isn't a huge factor for bigger businesses. But SMEs aren't always able to spend that money on an app. Especially If they've already splurged out on an e-commerce website.
That's what social commerce can help with. Depleting barriers to entry and providing cost-effective access to customers through social media apps. It not only provides an easier check-out process but all the other advantages of selling on a social media platform.
Funnelling customers from your social media marketing to sales is being made that much more natural with the addition of social commerce.
Meet your target audience where they're
When you're trying to market or sell anything – one of the most important things you can do is know your target audience. In this case, knowing what social media platforms your audience uses.
If your users can interact with your brand on their favourite social channel, discover your products/service, and then complete their purchase right there and then – why wouldn't they?
In addition to that, social media is an excellent place to collect and showcase social proof.
It is rare to be able to push customers through an entire buyer's journey in a single place, but social commerce is just that.
What platforms have adapted to social commerce the best?
Even though social commerce is considered a relatively new thing, some platforms have been slow to adapt, while others have been spearheading the movement.
Here are some of the top players in the social commerce space.
Update: Shopify and Youtube announced a partnership to allow content creators to sell directly on YouTube. Creators will be able to host live streams, in which they can tag and pin product recommendations, upload videos related to merchandise, and include a 'store' section on their YouTube page.
Facebook Shops
When thinking about social commerce, the social media giant Facebook seems like a clear favourite.
Not only do they operate on a massive scale (1.62 billion users visit the platform daily), but they're also very involved in building a platform that is as useful for users as for businesses. Especially with the advertising side of things.
Facebook Shops is considered easy to set up and sell on. It even has integration with partnered e-commerce platforms – to automatically sync your inventory onto the Facebook platform.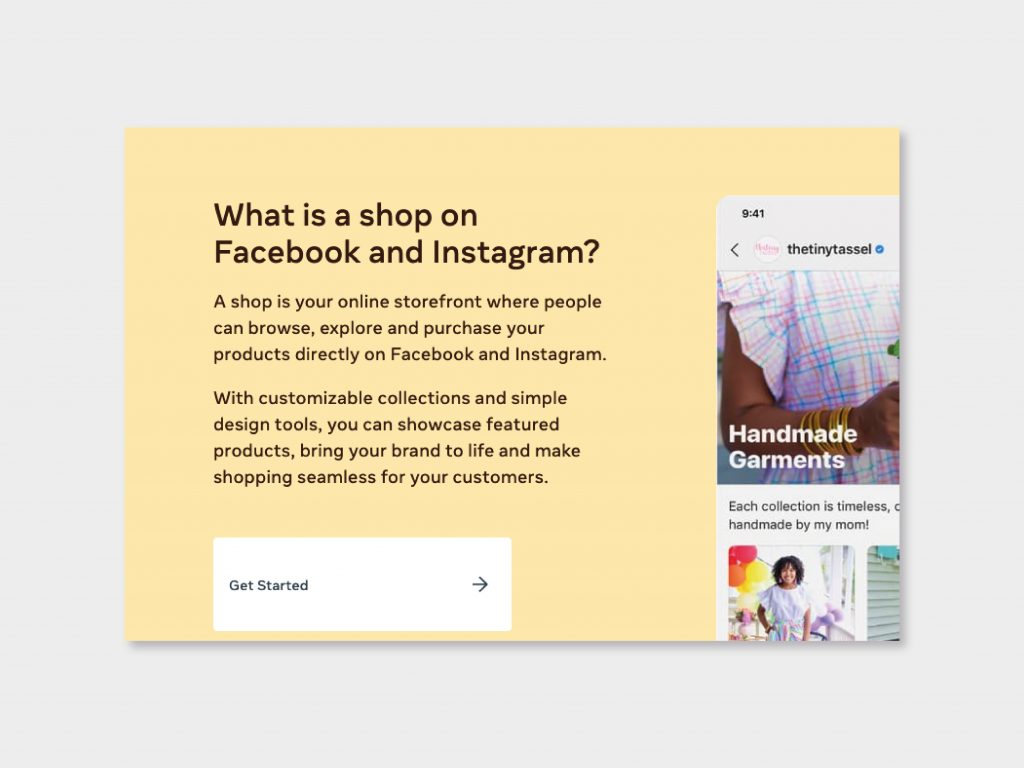 The checkout process is available on the Facebook app itself or through a seller's website. Allowing business owners to advertise, sell, and communicate with customers in one place.
Instagram Shopping
Considering that both Facebook & Instagram fall under the same Meta umbrella – their shopping features are interlinked. To set up a catalogue on Instagram you need to connect to the Meta Business Suite.
Moving along, you can also use Instagram Product Tags, which makes your content shoppable. Allowing an even easier integration between social media marketing and selling on the platform.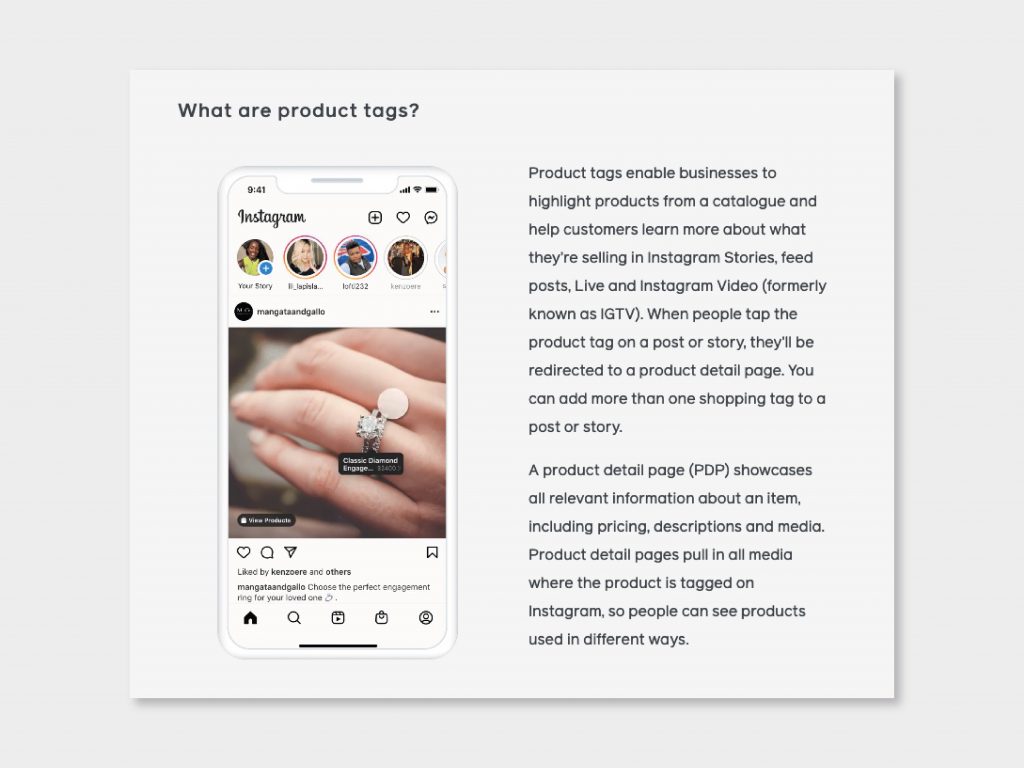 Pinterest
Even though Pinterest is not exactly a social commerce platform, they have some tools that can help with sales. Like Product Pins, which redirect users to a landing page. While the pin itself includes additional information live pricing and product description.
Pinterest also offers integration with Shopify, which allows you to add your product catalogue to your Pinterest page.
So, why are we mentioning Pinterest even though you can't make a direct purchase on the platform? Because a whole lot of people use Pinterest for purchase inspiration. And If people can find something they like and easily be redirected to a landing page – they tend to complete the purchase.
TikTok
Although, TikTok is quite a recent addition to the social media world they're making waves in the social commerce space.
Especially with the success of their shopping tools in China – they're attempting to replicate that in the western economy. With the TikTok Shop, the company is expanding into social commerce quite effectively.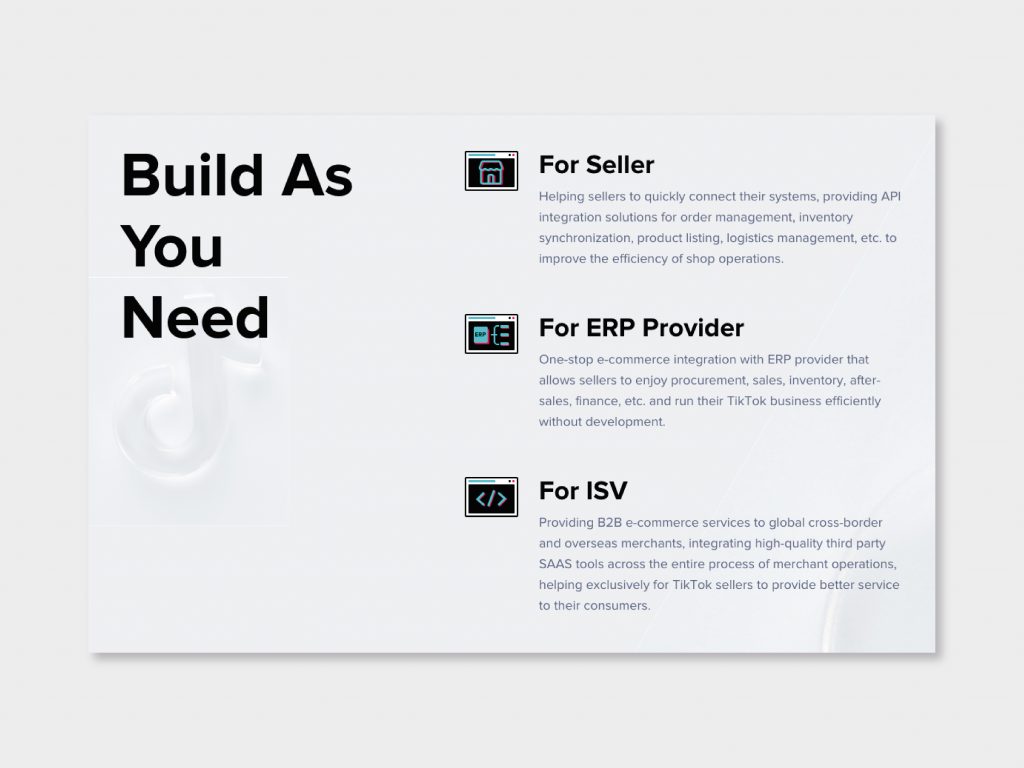 Not only do they have a top-notch algorithm, but they're also able to segment their user base in certain sub-communities. To deliver more relevant product suggestions.
Update: TikTok are dropping their plans to expand the live shopping features. Due to a lack of customer interest & internal problems.
Final thoughts
The growing presence of commerce in the digital world isn't something you can ignore. With the ever-expanding focus on social commerce tools from the social media giants – leads us to believe that this is just the beginning.
After all, social commerce global revenue is set to pass $1 trillion by next year. So, if you're already in the e-commerce space it might be worth investing in!
Lastly, if you're in the process of scaling your e-commerce business – why not check out our blog on ways to increase e-commerce revenue through digital marketing.
Keep reading
We've got even more great content!