Tomek Garczynski celebrates his 1st Anniversary
4th Nov 2020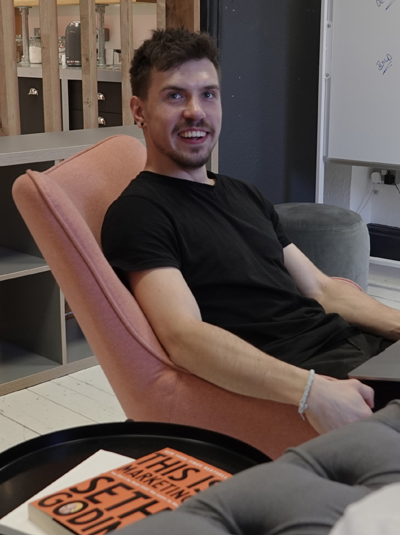 This week we are celebrating Tomek Garczynski's 1 year work anniversary! We sat down with our Graphic designer to talk about his first year and how it has been being apart of the team.
Congratulations on your anniversary Tomek. How's your first year been?
It's been great, surprising how fast it went but I enjoyed every second of it, the great atmosphere and awesome co-workers make it a pleasure to come into work every day.
What project have you most been proud of this past year?
There's been a couple that I really enjoyed working on and am proud of, we even have a few in the works right now that I think when finished will be awesome. But up to date I'd say branding Samuel Hobson House is my most proud one, I've had a lot of engagement in it, it looks good and carries a lot of meaning behind it.
Favourite think3 moment?
This ones a tough one just because we make great moments everyday. But a highlight which I'll never forget is our Christmas party, we had it not long after I started and it was a messy but fun one.
Tell us something we don't know about you?
I love pastry. Anything that's got bread or dough always catches my eye. (Sandwiches, donuts, cakes, buns 🤤)
I can also speak two languages: Polish and English, with Polish being my first language.
How have you developed since you first started at think3?
I've definitely gained a more work related mindset and experience. Uni work compared to real studio projects are two completely different things, so the shift was quite major. But I've developed and learned what it is to work for a real client, and what is expected of me.
Where do you see yourself in the future?
Either as a great graphic designer or a guitarist in a rock band. Maybe even both 😂
Tomek's comment: "Bangers & mash mate"
Grants comment: "Wow, it feels crazy that a year has already gone by! Tomek joined as a Graphic Designer straight out of University with a fantastic branding portfolio and after the interview, me & Lee immediately knew he was the one for the role! Since then he has come on leaps and bounds having contributed in some of our biggest projects to date and even leading on a fantastic rebrand of Samuel Hobson House. His skill and personality has made him become a true asset to think3. Keep up the great work mate and thanks for all of your hard work!"
Keep reading
We've got even more great content!