Mamie-Ann Patrick Celebrates her 1st Anniversary
10th Feb 2021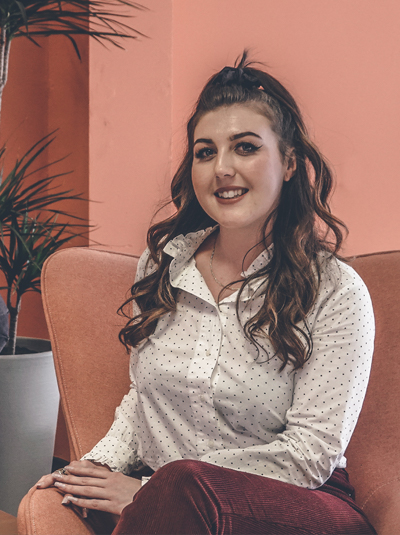 We have a big milestone happening this week as our Marketing executive, Mamie-Ann Patrick celebrates her 1 year anniversary at think3! We sat down with Mamie to find out how her first year has been, and how she has progressed.
Congratulations on your 1 year anniversary Mamie. How's your first year been?
My first year at think3 has been far from normal 🤪. I started at the creative agency a month before we went into the first Lockdown, meaning the majority of my time here has been working from home. Nevertheless, it has been a year full of exciting projects, skill building and most importantly, creativity!
What project have you most been proud of this past year?
I am proud of all of the incredible projects we bring to life at think3, but nothing feels better than consistently being told we are 'hitting the nail on the head' for clients.
I have never managed another person before think3, yet now I am Sam's line manager. Sam should be finishing his apprenticeship this year, so knowing that I have impacted his confidence, marketing knowledge and skills (as well as my own leadership skills) is what I am truly most proud of 🌟.
Favourite think3 moment?
How can I choose?! As a team, we always create the best memories. The fiercely competitive zoom quizzes, the endless amount of office dogs and the podcast attempts are just a few to name. I think my favourite think3 moment's have to be when we're discussing upcoming project ideas or new digital trends, nothing quite gets my creative juices flowing like the conversations we all have.
I'll also never forget the Zombie VR experience that we did to celebrate think3's 1 year anniversary…even if the lads did go deaf from my terrified screaming (I still came 2nd though 💪🧟‍♂️).
Tell us something we don't know about you?
I've actually known the think3 founders for about 5 years now, we started working together back when I began my career as a digital marketing apprentice. We were a part of the same creative team for years, then once they founded think3, I was asked to join them on their exciting new business venture!
I also love portrait photography and spend a lot of my free time capturing/editing images of friends, family and sometimes strangers 😊.
How have you developed since you first started at think3?
think3 make sure that our personal development is never forgotten. Since starting at the creative agency, I have become more confident with technical SEO, voicing my creative ideas, delegation and managing a team. The team are also fantastic at explaining digital trends to one another, so my Web Development knowledge has also improved (not that I could build you a website just yet…go to Gaz, Jack or Chris for that one).
Where do you see yourself in the future?
Leading the creative team at the Miami branch of think3 ☀️😏 Thanks for an incredible 1st year think3!
Keep reading
We've got even more great content!