How To Do Keyword Research?
17th Nov 2020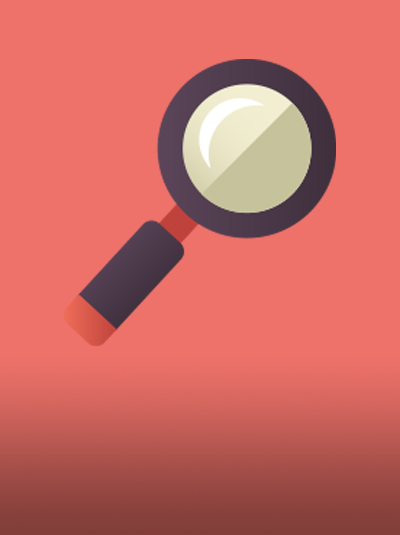 Keyword research is an important aspect of any SEO marketing strategy, along with Creating Content and Link Building.
Following on from our recent blog, The Beginners Guide to SEO and PPC Marketing in 2020, we are going to delve deeper into the world of Keyword Optimisation and how using the right keywords and phrases can really help boost your SEO ranking and increase organic website traffic, without spending a penny.
Quick tip: If you aren't entirely sure what SEO is or why you should be using the process to increase your website traffic, read our SEO guide first before starting here.
What is Keyword Research?
Keywords help search engine web crawlers discover your website and understand what your content is about so that it knows when to show it on search results. Keyword research (also known as Keyword Optimisation) is the process of evaluating, researching, and implementing the right words or phrases on your website so that it will rank as high as possible on search results that relate to your product or service.
Here's an example; If someone goes onto Google and searches for "shoes for sale" and your business sells shoes, you want to be seen on the search engine results page (SERP) for that search query, right? Well, keyword research will help you get there.
Keyword research can also be done on other online platforms such as YouTube, Twitter and online directories, but today I'm just going to focus on ways to improve your SEO ranking by making keyword changes to your website.
Why is Keyword Research important?
The keywords that you use, within blog posts for example really impact where and when you appear on SERPs. Taking the time to do Keyword Optimisation helps search engines understand what it is that you're offering, meaning that you are more likely to show up to the people who need it. Ultimately, keyword research allows you to better serve your target audience and increase organic website traffic. The more targeted the traffic, the more conversions you'll get. Which will also gain you more potential customers and more organic searches.
Psst! Here are some more Conversion Rate Optimisation strategies that we recommend.
How to do Keyword Research
Prioritise your Pages
First and foremost, you should focus on the pages where you have (or want to have) the highest conversion rate. Keyword optimisation should be done on these before starting on the others.
A good way to find out the conversion rate of your pages is through Google Analytics.
As long as you know what your conversion goal is (email submission, phone call, online sale etc.) and have a separate landing page that your visitors arrive on once they've completed said goal, you can set up a new "goal" on Google Analytics.
Once this is done, you will be able to see how well your site pages are performing and how your visitors are behaving when they're on your website!
A quick tip: Here's a short tutorial on how to set up Google Analytics goals.
Evaluate your existing keywords
As they say, knowledge is power. Knowing which keywords your website currently ranks for (and their rank position) gives you an understanding of how your organic traffic volumes vary over time and enable you to remove irrelevant keywords from your web pages.
Here's an example, let's say you find out that the keyword "socks" is ranking highly on your web page that's advertising "shoes". This means that your web page is more likely to show up on SERPs when people want search queries for socks when that isn't what you're offering! Simply remove the keyword "socks" as much as possible on this page so that it becomes more relevant to the search intent. This will help your traffic to become more targeted and will stop high bounce rates, which can hurt your SEO ranking!
Evaluating your existing keywords also gives you the chance to boost your higher-ranking pages even further. Doing a little extra SEO work (such as link reclamation) on these pages may just help them rank their way up to the number one spot on search result
Quick Tip: Here are some of our favourite, simple SEO techniques to boost Google rankings!
Find new, valuable keywords
Along with evaluating your existing keywords, you need to find and implement valuable keywords that will help boost your web page's SEO ranking for the search terms you want to rank for.
Step One: Build a list of general topics related to the webpage service or product.
Put yourself in your audience's shoes. What would they search in order for your page to appear on their SERP? Make a broad list of topics that relate to your webpage and then write down keywords, terms and phrases that relate to that specific topic.
Here's an example; you want to build a list of keywords for the website page that shows all of the shoes you sell.
| | | |
| --- | --- | --- |
| Sport shoes | Summer shoes | Winter shoes |
| Trainers | Summer sandals | Boots |
| Sneakers | Sandals | Boys waterproof boots |
| Athletic shoes | Wedges | Ladies snow boots |
| Best running shoes | Mens summer boots | Hiking boots for kids |
| Womens trainers | Best golf shoes | Cheap winter shoes |
| Gym shoes for sale | Summer work shoes for women | Stylish mens winter boots |
Now build on your list even more by including your brand and product names.
Step Two: Play around with search engines to see related phrases.
Put the list of words into Google (and other search engines) and have a look at the suggested terms. Add the relevant ones to your list.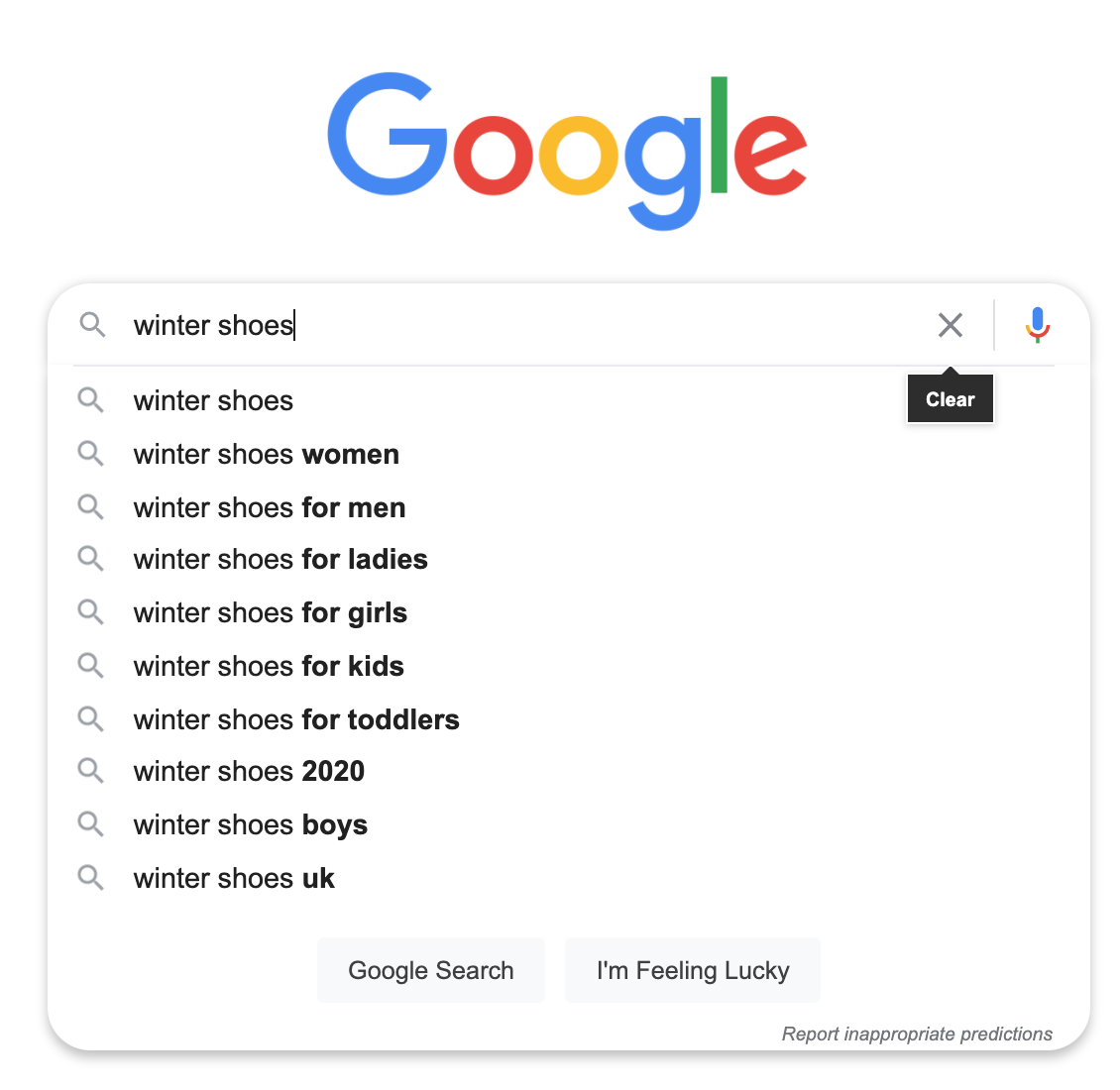 At the bottom of the SERP you will also find "searches related to". Include these in your list too.
Step Three: Look at existing keywords you're already ranking for.
You should already know which keywords your business ranks for, so utilise this! Include your existing, relevant keywords in your new list.
Remember! Only include an existing keyword if it relates to the web page you're optimising.
Step Four: Use keyword research tools to analyse keyword competition.
Once you're happy with your list, you should use keyword research tools to add even more terms to it.
Keyword research tools, like Google Keyword Planner or ubersuggest can:
Analyse the monthly average search rate and first page competition level for keywords.
Suggest other related, high performing keyword ideas.
Look at aspects of your competitors' websites; such as domain authority, backlinks and the keywords they're currently ranking for.
Put your list of terms into different keyword research tools and have a look at how well they perform. Add the other suggested keywords to your list.
Quick tip: Use keyword research tools to find out which keywords your competitors are ranking for! You may find keywords you haven't even thought about using that could have a real impact on your SEO ranking.
Step Five: Keyword Difficulty, knowing which keywords to choose.
By now you should have an extensive list of keywords. So how do you know which ones to focus on?
Keyword difficulty (also known as SEO difficulty) is a metric that determines how hard it is to get a high SERP ranking for certain keywords. Unfortunately, every tool we've looked into measures this differently, but they do all take into account the following when giving a score:
Page authority
Backlinks
Domain authority
Content quality
Basically, as long as you have good SEO and concentrate on the keywords that have a high search volume but low competition, you should end up with a pretty strong keyword list.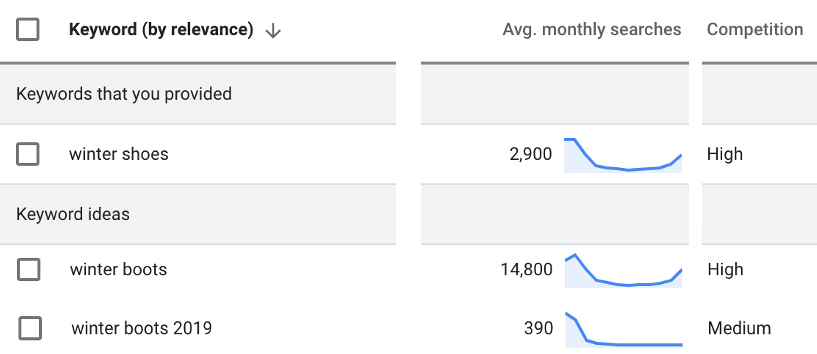 In this situation, I recommend using the word "boots" instead of "shoes", as "boots" is searched more often even though they both have the same keyword difficulty.
Keyword Optimisation Techniques
Once you have your final list, you now need to know where to use keywords to improve your SEO ranking. Below is a list of places to help your efforts:
Page Titles (Title Tags)
Title tags (also known as page titles) are the main HTML element of your page that is displayed on search engines results. They help both users and search engine web crawlers identify what your page is about and invites your audience to find out more.
Title tags are displayed as blue text and are considerably larger than the other elements that appear.

Title tags play one of the most important roles in your search engine page ranking so ensuring that your keyword is included is vital.
It's always best practice to put your keyword at the start of your title tag, followed by your business name, to help build brand trust and loyalty.
Quick Tip: Although meta descriptions influence click-through rate, as they help users understand what your page is about, search engines don't actually take keywords within them into account! In other words, there is a need to optimise your meta descriptions with keywords, just make sure that your meta description matches what's actually on your web page. Bounce rate isn't healthy for SEO at all!
Body Text Content
The majority of your web page content is going to be in the body text, so including keywords here is a must. Google (and other search engines) will crawl your web page and appropriately rank it based on its keywords and other factors, such as content originality.
So, how often should you use your keywords in body text? Well, some resources say keyword density is an important factor (the percentage of how many times keywords are mentioned on a page, compared to the total number of words) but Google has advanced way beyond this.
"Keyword density, in general, is something I wouldn't focus on. Search engines have kind of moved on from there." John Mueller, Google 2014
We recommend using your selected keywords once or twice within your body content. Use it any more than this and search engines could penalise your website for keyword stuffing, giving you a negative SEO score. To get around this, simply use synonyms or similar key phrases throughout the rest of the content.
H1 Tag
H1 tags are the first header displayed on a page or blog, indicating the title of said content. They differentiate from title tags as H1 tags don't show up on SERPs, yet both should accurately explain to the user what they will find on the page and using your keywords to do this makes it easy.
Quick Tip: Write your H1 tags for your readers and your title tags for the search engine crawlers.
H1 tags are a key SEO ranking factor and help website accessibility. If a web page has clear titles that provide meaning and context, search engines will reward it with a higher ranking this will also help improve your viewer's user experience.
According to SEMrush, 36% of articles with H2+H3 tags have higher SEO performance in terms of traffic, shares, and backlinks, so make sure to use these also!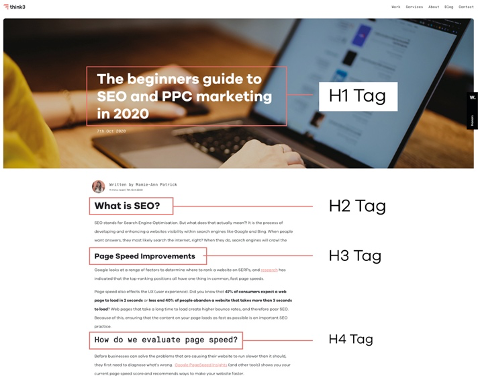 Images
Users can find your web pages through the imagery that's embedded within them, so it's best practice to use key phrases within them!
First things first, use imagery that is applicable to your web content. Then you can use relevant keywords in:
The file name.
Image title.
Alt text.
Caption.
Description.

URL's
A URL is also known as a "web address" and tells us the location of where on the internet the web page is.

Using keywords in a web page's URL can improve search visibility and encourages a higher click-through rate! Make sure to use appropriate keywords, within a short, readable URL to optimise your SEO efforts.
Link Anchor Text
Link anchor text is the clickable text that links to another source (the target page). For example, this anchor text links to think3's services page.
So how does anchor text affect SEO? Search engines use anchor text links that are directed to your web pages to determine how other people view them and what the content is about.
To make sure your anchor text is SEO friendly, make sure that the keyword (anchor) is relevant to the target page that you're linking!
Using Long-Tail Keywords
Research by Impact has suggested that long-tail keyword searches have a click-through rate 3% to 5% higher than generic searches, meaning you should definitely use this keyword optimisation technique within your content. But what is a long-tail keyword?
Long-tail keywords are more specific (and sometimes longer) than the more common search terms.
Here's an example;
Long-tail Keyword – "Boots that are good for hiking in the winter"
Short-tail Keyword – "Winter boots"
Although, fewer people search with long-tail keywords (monthly average search rate), they tend to have a higher conversion rate. This is because those who search longer, more specific terms are closer to the purchase stage of the sales funnel.
Utilising long-tail keywords in your content can help you overtake your competition and help you reach your conversion rate goals quicker than short-tail keywords.
We're here to help!
The team at think3 can help your business establish a strong keyword strategy.
Need to know which keywords you already rank for? Maybe you need support defining keywords and phrases that really showcase your business online? We are more than happy to send you a free SEO audit, with a list of keywords you currently rank for and a list of improvement recommendations. From keyword research to Content Marketing, we can help your business to be found online.
Got a project in mind? Let's chat!
Keep reading
We've got even more great content!