The beginners guide to SEO and PPC marketing in 2022 (updated)
7th Oct 2020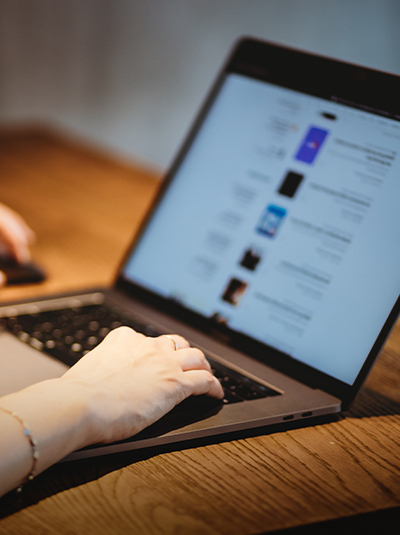 If you've been keeping up to date with the recent developments of our business; the growth in our employee numbers and our studio relocation to Derby City Centre, you will have seen our desire for continued evolution & enhancement.
In keeping with this trend and to enable us to further improve our client offering (for both current and prospective clients), we are excited to be expanding our services to now provide support and expertise for Pay-Per-Click Advertising and Search Engine Optimisation Campaign Management.
Below, we will help you to understand SEO and PPC marketing, some of the methods and procedures involved and most importantly how and why they can be vital to business success. To help companies separate themselves from the crowd – especially in the digitally driven world in which we live.
What is SEO?
SEO stands for Search Engine Optimisation. But what does that actually mean?! It is the process of developing and enhancing the visibility of a website within search engines like Google and Bing. When people want answers, they most likely search the internet, right? When they do, search engines will crawl the internet and return an ordered list of websites that are most relevant to the user's query. This list is ordered by how the websites returned each display themselves to the search engines: this is where SEO comes in.
SEO is the process of improving a website's visibility, helping it increase ranking when users look up specific words or phrases online, meaning it has become an essential part of any successful marketing strategy improving organic search, making your website and product or service accessible to more people. The four pillars of SEO explain this process quite well.
Why is SEO essential?
Put simply, without SEO, your website might not be found. According to Backlinko.com (a company that analysed 5 million Google search results in 2019), the #1 organic search result is 10x more likely to receive a click compared to a page in the #10 spot. The research also found that on average, moving up 1 spot in the search results page will increase the website's CTR (click-through rate) by 30.8%.
Search Engine Optimisation is a customer-focused, cost-effective marketing strategy, using methods such as keyword optimisation to get your website noticed.
Keyword optimisation establishes which keywords your site ranks for on search engines. Businesses should use keyword research tools (such as Moz) to help them explore and discover the best keywords for their product, service or brand and then incorporate these into their online marketing strategy as much as possible. Placing the right keywords in your website blogs, META Tags, titles, links, URLs and more will really help boost your SEO efforts. Keyword optimisation, along with a wider bunch of SEO practices, can lead to a site gaining more targeted traffic.
SEO makes your website content visible to search engine crawlers. So, when the website is returned within the SERP (Search Engine Results Page) it's being returned for a keyword relevant to the user's intent. When done effectively, SEO campaigns can not only have a direct ROI but also enable businesses to save money on other marketing activities, such as paid advertising.
The team at think3 use a range of SEO services to ensure our clients' website rankings and traffic is increased.
Link Reclamation
Link building is incredibly important for SEO, but many businesses overlook the value of maintaining existing ones. If you have a large number of broken links on, or directed to, your website your user experience (UX) will be poor. Basically, having a poor UX means a poor SEO ranking. Link reclamation is the process of finding broken or lost links and fixing them.
It's important to know that links and backlinks are two different things and are solved in different ways:
Backlinks are links that direct users to your website.
Links are links on your website.
By finding and replacing broken links and backlinks through link reclamation, you are ensuring the quality of your search engine presence is maintained.
Here are some examples of broken links:
The linked URL is incorrect (it has been mistyped etc.)
The linked webpage is offline.
Links to content (such as videos or PDFs) have been deleted.
Broken elements within the page (Javascript, HTML etc. errors)
404 errors – The server can't find the webpage.
How do we find broken links?
Broken links on your website point to resources that don't exist. These can either be internal links (links to your site) or external (links to other websites). Customers usually let businesses know when a page isn't loading, but there is also a range of broken link checker tools, such as Moz, Google Search Console and website plugins. These tools list all your broken links and their causes, enabling you to quickly fix them before they negatively affect your SEO ranking.
How do we fix broken links?
Good news, fixing all broken links on your site is really simple! You either need to replace all the broken links with live ones or remove them if there isn't a suitable alternative. To improve your SEO even further, it's good practice to link to pages that have a high domain authority.
How do we find broken backlinks?
Broken backlinks that come from other websites to yours can happen because:
You have changed or deleted the URL on your website.
The linking website made a mistake when linking to yours.
Broken link checker tools also have the capability to find broken backlinks!
How do we fix broken backlinks?
Sometimes, a broken backlink can't be resolved. For example, a website that featured your website may no longer be available online. This is why it's imperative to minimise all the broken backlinks that you can.
This process isn't as easy as resolving broken links as you don't have much control over what others do with their websites. But here are some fixes to try:
Reach out and ask – Ask the linking website to resolve the broken link. It could just be down to a typo!
Set up a 301 redirect for the broken page – Let's say the linking website linked your 'about us' page a few years ago, but this page is no longer live on your website. It's best to redirect the page URL to somewhere else on your site, meaning that when the linking website visitors click on the link, it takes them to one of your live pages instead.
Replace and recreate the URL content – Once you know what the URL is for your broken link, replace the content and make it live again so that it's still valuable!
Leave as a 404 – If none of the options above are feasible for your business, you can just leave it as a 404 error. Make sure you show it as a "hard" 404 though, instead of "soft".
Page Speed Improvements
Google looks at a range of factors to determine where to rank a website on SERPs, and research has indicated that the top-ranking positions all have one thing in common, fast page speeds.
Page speed also affects the UX (user experience). Did you know that 47% of consumers expect a web page to load in 2 seconds or less and 40% of people abandon a website that takes more than 3 seconds to load? Web pages that take a long time to load create higher bounce rates, and therefore poor SEO. Because of this, ensuring that the content on your page loads as fast as possible is an important SEO practice.
How do we evaluate page speed?
Before businesses can solve the problems that are causing their website to run slower than it should, they first need to diagnose what's wrong. Google PageSpeed Insights (and other tools) shows you your current page speed score and recommends ways to make your website faster.
How do we improve page speed?
Some of the most common causes of slow page speed are:
Bulky Images – Ensure that your images are optimised. You can do this by compressing images through design tools such as Photoshop before uploading them to your website.
Poorly designed coding – You can optimise your code by removing code comments, spaces, commas, and other non-essential code.
Browser caching – Make sure to clear your browser cache at least every other month.
Server response time – Improve your server response time by identifying and fixing your top performance bottlenecks. These are things such as slow database queries, or lack of adequate memory.
What is PPC?
PPC stands for Pay Per Click. It is a form of digital advertising used to drive traffic to websites, to help increase sales and inquiries from a set target audience through Search Engines or other channels. You can do this by running PPC campaigns to help boost your SEO.
Advertisers can run adverts on platforms such as Google Ads (Google AdWords) and Facebook, paying an amount every time someone clicks on it. It can be an effective advertising method, used both independently (as an alternative to organic SEO) or as a wider marketing campaign alongside SEO.
What are the benefits of PPC?
PPC advertising can allow businesses to target their perfect audience. Meaning that a business's PPC adverts only show up to those who are interested in their product or service. The audience can be filtered out by parameters such as location, age demographic, behaviour, interests and more.
The goal for search engine PPC advertising is to get as many conversions as possible and appear amongst competitors on SERPs. Search engine PPC advertising is a simple bidding process, which involves budget management techniques and targeted days and or times, depending on the target audience. As stated above, people tend to only look at the first page of Google (or other search engines) when they're looking for an answer, so it's important that your advert is shown here.
Keyword research tools – Getting the most out of your advert
Keyword research tools, such as Google's Keyword Planner help businesses determine what words they should use in their Google Ads, ensuring that the adverts reach the right people through search results and search terms.
Not only do these tools recommend keywords and provide bid estimations for your paid advertising campaign, but they also help businesses understand their audience's intent.
To find keywords, businesses enter words, URLs or phrases into keyword research tools that relate to their goal and then the tool will then provide suggested keywords.
Keyword Research tools can also show:
How often the keyword is searched on Google (Average Monthly Search)
How many other advertisers are using the keyword (Competition)
The bid you most likely need to set, for your ad to be shown on the top of the first page of the search results (Top of page bid)
It's important to note that keyword research tools provide different suggestions for each word, URL or phrase entered, so think3 use a range of them to determine the most successful keywords for your PPC advert.
Once businesses have analysed the keywords suggested and have determined which to use, they can begin to set up their Google Ads campaign.
Google Adwords
Determining a budget and understanding how the "Bid" works is essential when creating a successful Google Ad. After you've set up your campaign and groups, businesses will then need to specify their budget (how much you'll spend a day). Luckily, thanks to the Keyword Planner tool, you should already have an idea of how much you'll need to pay per click.
Moving on to "Bidding". The bid is the amount of money a business is willing to pay for every click. As you're competing for the top advert space on Google against other companies, you need to have the highest bid, like an auction. But do remember, it's not just about the price you're willing to pay for your advert, it's also about the quality of your advert and the landing page that it takes users to.
Your quality score is based on three things:
Expected Click Through Rate (How many people will click on your advert)
Ad relevance to the query (How well you have answered the user's search)
Landing page experience (How well your web page performs, this is another reason SEO is so important)
Put simply, your Max Pay for Click (Bid) x your Quality Score = Ad Rank.
Creating quality pay per click adverts over time can reduce the amount you have to spend to get a higher position. Looking to try out PPC for yourself? Check out our 5 tips to optimise your Google Ads campaign.
Monitor and Modify Google AdWords Campaigns
All paid search online marketing is also easy to measure and track. PPC management is a key task to find out the success of your campaign. Businesses are able to use analytical data to effectively review and refine the advert. So, the performance of a campaign is more successful over time. Facebook's Ad Manager is a good example of this.
Google AdWords conversion tracking needs to be set up before you can monitor how well an ad click is performing. The set-up process depends on the paid advert action, which could be things like a website purchase, newsletter sign up or a phone call.
After this, businesses can see how many conversions they are getting from the PPC advert and measure their return on investment (ROI). The conversion tracker also shows data such as:
Cost per conversion
Total conversion value
Conversion value per cost
Conversion value per click
Value per conversion
Click-through rate
think3 fully manage PPC campaigns for clients. From researching the right keywords to creating a powerful advert and tracking its efficiency, we ensure that our customers reach out to their target demographic through online paid advertising and gain some real ROI through it.
"Giving the high volume of websites we have developed over the last 18 months; it makes sense to start offering businesses SEO and PPC Management services. These campaigns are an essential part of online marketing, generating quality traffic for the business."
Got a project? Let's chat…
Ready to take your online presence to the next level?
Get in touch!
Keep reading
We've got even more great content!