SEO tips for websites: Small Changes To Make A Big Impact
25th May 2021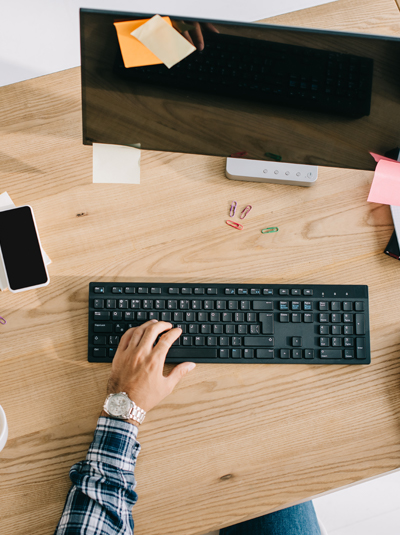 What is SEO?
Before reading our SEO tips for websites, you need to understand what SEO is. Ultimately and technically, it's the process of adjusting a website to utilise the algorithms of search engines to increase your website ranking.
Google has over 92% of the market share when it comes to search engines. With 8.5 billion searches daily. Over 90% of users will click on the first results that come up. This means that you need to be aiming for the top of Google's search results if you want people to land on your website.
With different ways of increasing your visibility, today we're going to focus on organic search and increasing your website's rankings.
Technical SEO side of things
You've got a website, first of all, is it even visible and are you appearing in search results (SERP) generally? You've probably searched your own business name many times to see what comes up, and you've probably noticed your home page appear but what about all those other pages?
Quick tip – Head on over to google and literally type in site:think3.co.uk and it will return all the crawled pages from your website – is everything there as it should be?
If not, head on over to Google Search Console. This is an entirely free tool that gets the sitemap for your website to say "hey google, my website needs crawling when you get the chance!"
It's a great tool to also see how your website is performing in terms of your overall impressions and click-through rate. And you can find out where they are coming from based on search queries! It provides lots of useful insight for SEO in terms of thinking about what keywords and search terms your website might or should be ranking for.
Google ranks websites in a number of ways. One of which is your page speed and more importantly this year, is it optimised for use on mobile devices. You can check some core stats on your site by using the Google PageSpeed Insights tool. Where you just pop in your website and you'll get results for both desktop and mobile. When it comes to page speed – a slow website is going to put people off.
Keywords
One of our main SEO tips is to utilise keywords in the right way. When it comes to keywords (the individual words, phrases, and terms that people are searching for) stop thinking like a business owner and what you're trying to sell. As an SEO agency, we see search as no different to the sales funnel. Most people start off with a search to increase their awareness – how are you going to capture those people?
Once they've become aware of you, they will probably start to delve a little deeper and look for comparisons or alternatives. Then hopefully, because you have what they are looking for, they become more interested, increase their desire to buy from you and then ultimately, become a customer of yours.
So, where do you target and where do you pay emphasis? Too many times people try to optimise straight for the core item that is being sold, meaning it's a highly competitive space to play in when it comes to SEO. If anyone has done paid advertising on keywords, you are more likely to see that the cost for these is a lot higher. This is because the ROI is supposed to be higher. You are pitching to people that have already made their way through the funnel and have a desire to buy.
How to do keyword research
Here are a few free tools that can be useful for keyword research:
Answer the Public
A website that gives you two free searches per day around individual topics. It shows you question-based terms that are being searched. This is ideal for thinking about that next blog and how you can increase awareness at the top of the funnel.
Google Trends
You can set up alerts for content that is aligned to your product/service and see what's happening in the news. You can be reactive to something that's happened today and spin that into a quick short term traffic producer for your website.
Our process for keyword research starts with a spreadsheet
Think of about 20-25 words/phrases that a customer would use to discover you, once you have these start asking different people because people will think differently and then think about location. Are you looking for national or just local coverage? How does your location impact people's search behaviour?
Next, head on over to google and start typing in some of those phrases, just one of two words will then lead google to provide more suggestions on what you are searching for, write some of those down and start to build up a list of long-tail keywords/search terms that even google is suggesting for you.
Now you need to actually put those search terms into Google and scroll to the bottom of the page. Here you'll find Google's own suggestions of what else you could be looking for. Add these to your list.
By now you should have 30-40 different keywords/phrases and search terms that could be driving traffic to your website. So what do you do with those next? Get yourself set up on a keyword research tool, like Google Keyword Planner. This is why I use a spreadsheet to collate them all together – you can then import that list directly into the keyword planner which will then give a load more detail and other content around the keywords that you've pulled out. You even get to see how popular those search terms are and how many searches are made each month on them. Even better – you can download the results!
So, what do you do now? You clearly don't want to go for the terms that have the highest results, they are going to be more competitive and it's going to take a lot longer to try and rank for those terms. Instead, look for those that have over 100 searches per month – is there anything there that you can really hone in on and try and develop your website around those search terms?
OK – where next? This is where it gets a bit technical. Websites are like books, that's the easiest way to explain it, and like a book it has a cover, it has chapters and sub-chapters and that's how a website should be structured. We have things called tags – H1's H2's all the way to H6's which act like the Titles and Chapters. Here's where you can influence your search rating by making sure that your Title reflects your page titles and meta descriptions (that short little bit of text that people see below the page on search results) to really make sure that you can begin to rank for the terms you want to.
SEO Tip: Download a free tool called Screaming Frog which will let you put your website in and download how your website is structured pulling out all of your titles, meta descriptions and your H1 tags. How relevant are these based on all the information that you've discovered so far? Do you actually have any included on your website? Do you have access to your website to be able to make these changes?
This is a completely free tool that allows you to promote your Business Profile and business website on Google Search and Maps. With your Google My Business account, you can see and connect with your customers, post updates to your Business Profile, and see how customers are interacting with your business on Google.
Your Business Profile gives you a presence on Google Search and Maps, allowing you to respond to reviews, post photos of products or special offers and add/edit your business details. It offers insights, showing you how you can optimise your customer engagement for better results, and you can encourage more engagement by interacting with your customers from the customers' tab.
So, that's a very quick overview of SEO tips for websites, including some keyword research tools and search engine software that you can use to look at your SEO performance.
Now, can you do this yourself – some of it? If you really want your website ranking to improve and compete, then you may be better talking to an SEO agency. It's not a quick fix and can take a number of months to start to see an improvement in performance. But once you get there and start appearing on the first page of search results, your inbound enquiries and conversions should increase significantly. Investing in your ongoing SEO will always mean that you stay competitive and drive traffic to your website.
Need support with your SEO marketing? Let's chat!
Keep reading
We've got even more great content!