My Road to Wembley
My Road to Wembley
The brief
The client's dream was to create an easy to navigate digital environment where you could follow the FA Cup from the beginning to the end, without it requiring full-time job hour maintenance.
The main challenge (up until now)? It's almost impossible to follow which teams are playing when, and all the other magic that comes with it!
With 724 teams playing and there being 13 rounds in total, we needed to remove the logistical difficulties from following the FA Cup. We were tasked with making the information accessible for anyone, from avid football fans to casual viewers.
To develop a website where fans can follow their local clubs, and clubs themselves can use it as a social platform to promote themselves, wasn't going to be an easy job.
Visit project
The solution
After working with the client to understand all the ins and outs of the FA Cup processes and apparent challenges with keeping up to date with it, we developed 'My Road to Wembley' as an online database. Every team was invited to participate in the legendary FA Cup, from the bottom of the footballing pyramid to the very top clubs participating in the Premier League.
We highlighted the real beauty of the tournament. Technically, any team can win the cup and we are here to shout about it. We created a space where smaller clubs can have a platform to ensure their survival anddevelop stronger ties with their local fan base!
The platform allows users to find their nearest FA Cup matches (based on location), provides social profiles for every club, their backstory, where all matches are happening and ticket prices. We wanted to create an enjoyable experience for any local club fans.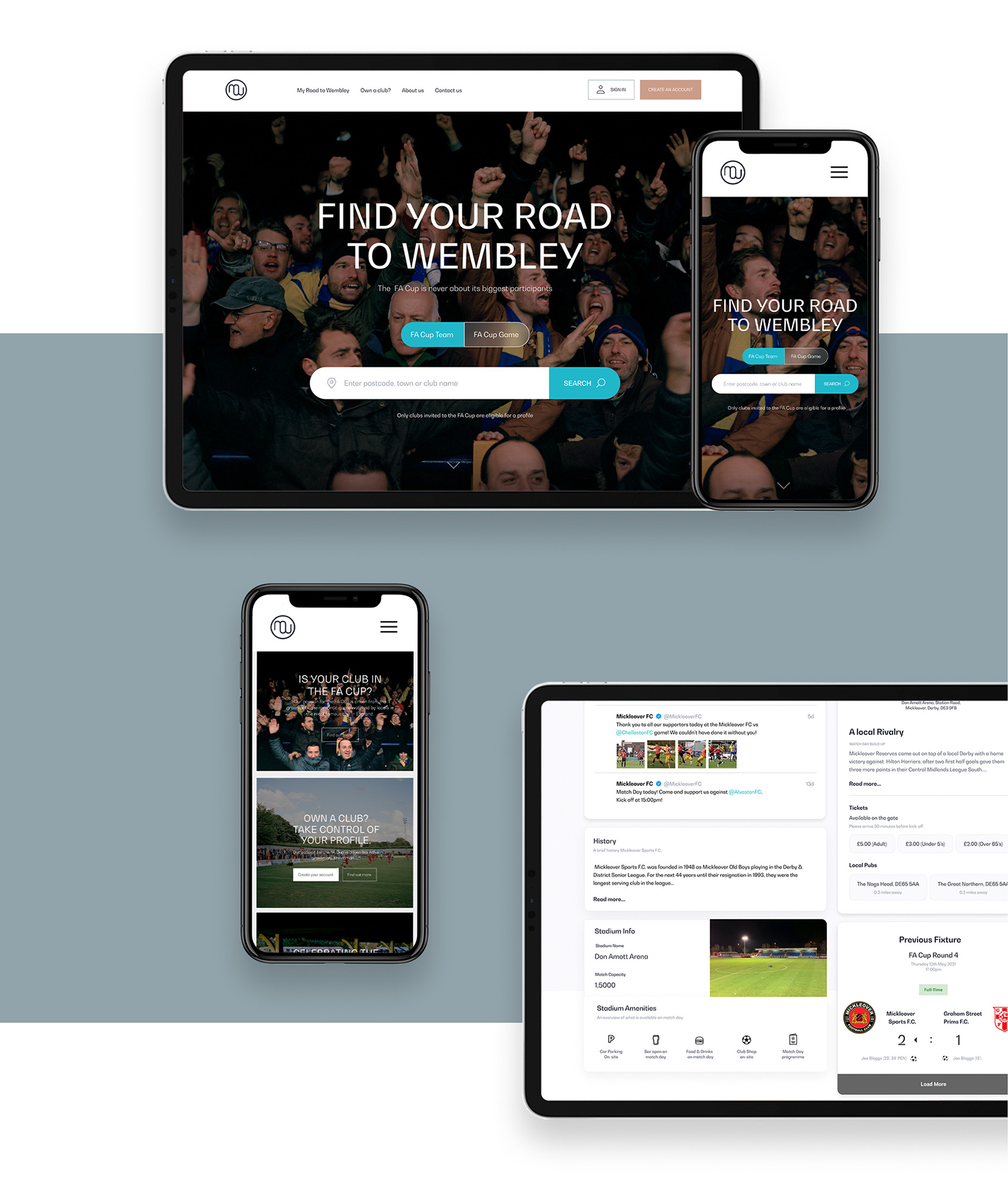 Finding your local clubs doesn't have to be a burden
Easy to search.
Most people don't even realise the FA Cup begins in their local communities, way before it's broadcasted nationally. The first stage of the tournament begins in August, with all the small clubs battling each other, way before any of the big names join.
Without them being actively covered in the media, it is hard to keep up with hundreds of matches that are happening. That's one of the main challenges we solved.
All you need to do once you go on the website is enter your postcode, town, or club name and all the local FA cup teams' profiles, their upcoming games and a map of the area are shown to you to provide the smoothest UX possible.
If you continue further to club's profile, their whole FA Cup match history, twitter feed, stadium info and upcoming matches appear. What used to be a time-consuming chore for football fans is now (with the help of an amazing UX) an enjoyable experience. It now only takes a few seconds to find all the information you'll ever need to follow the FA cup!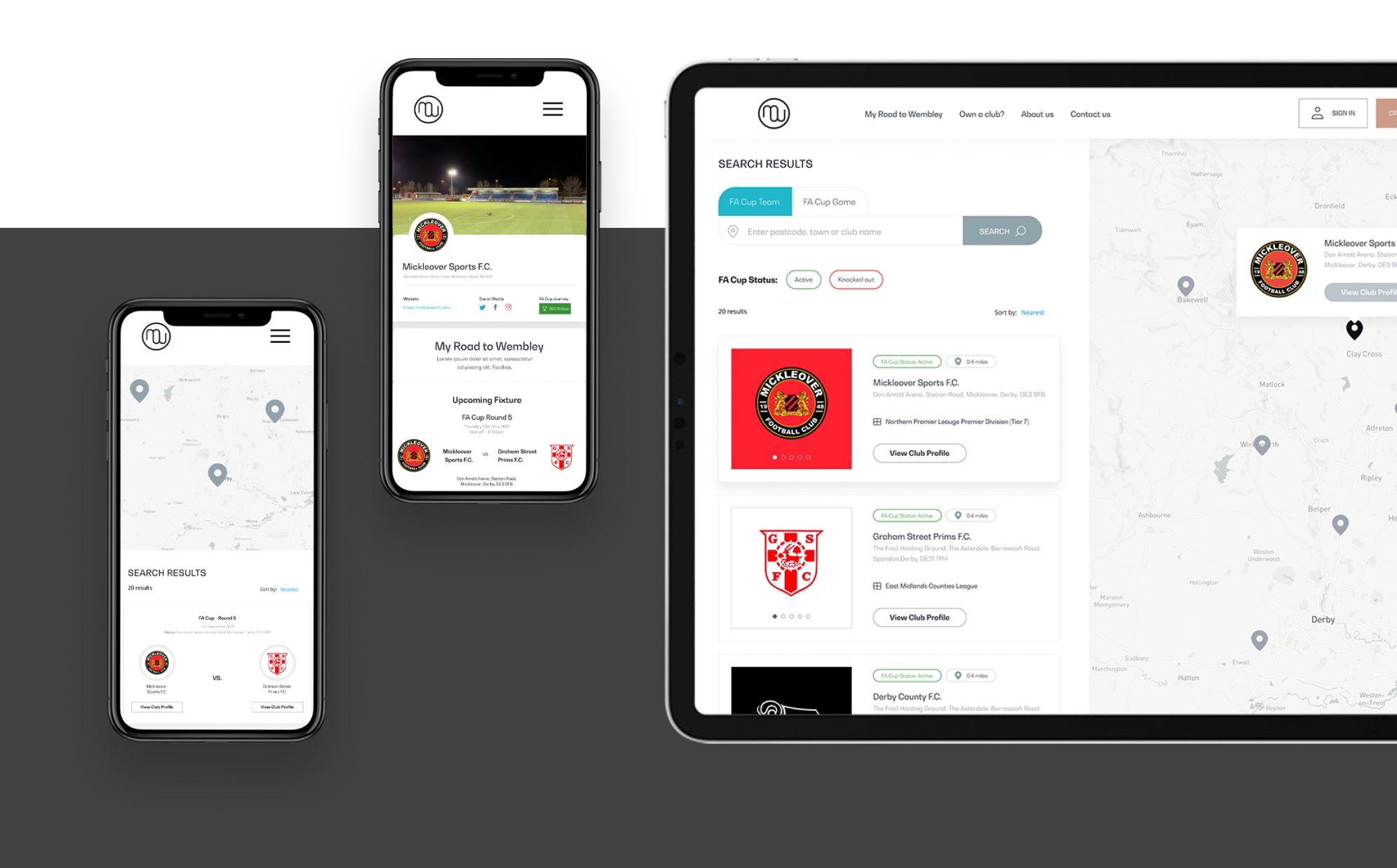 Social platform for FA Cup teams? Sign me up!
Giving teams a voice.
We understand the financial constrains smaller clubs face and they don't always have enough money to develop up-to-date digital presence. That's where we come in. We created a platform for all and any FA Cup clubs to share their story and develop stronger ties within their communities.
Fundamentally, this is a free marketing approach for smaller clubs relying on FA Cup, tickets and match day spend on keeping afloat. It's a tool for them to grow their fanbase and start improving their chances to flourish across the United Kingdom.
On the other side, this platform pretty much puts the available information about smaller clubs together in one place. 'My Road to Wembley' makes the process of following the FA Cup, from the beginning to the end, easier than ever!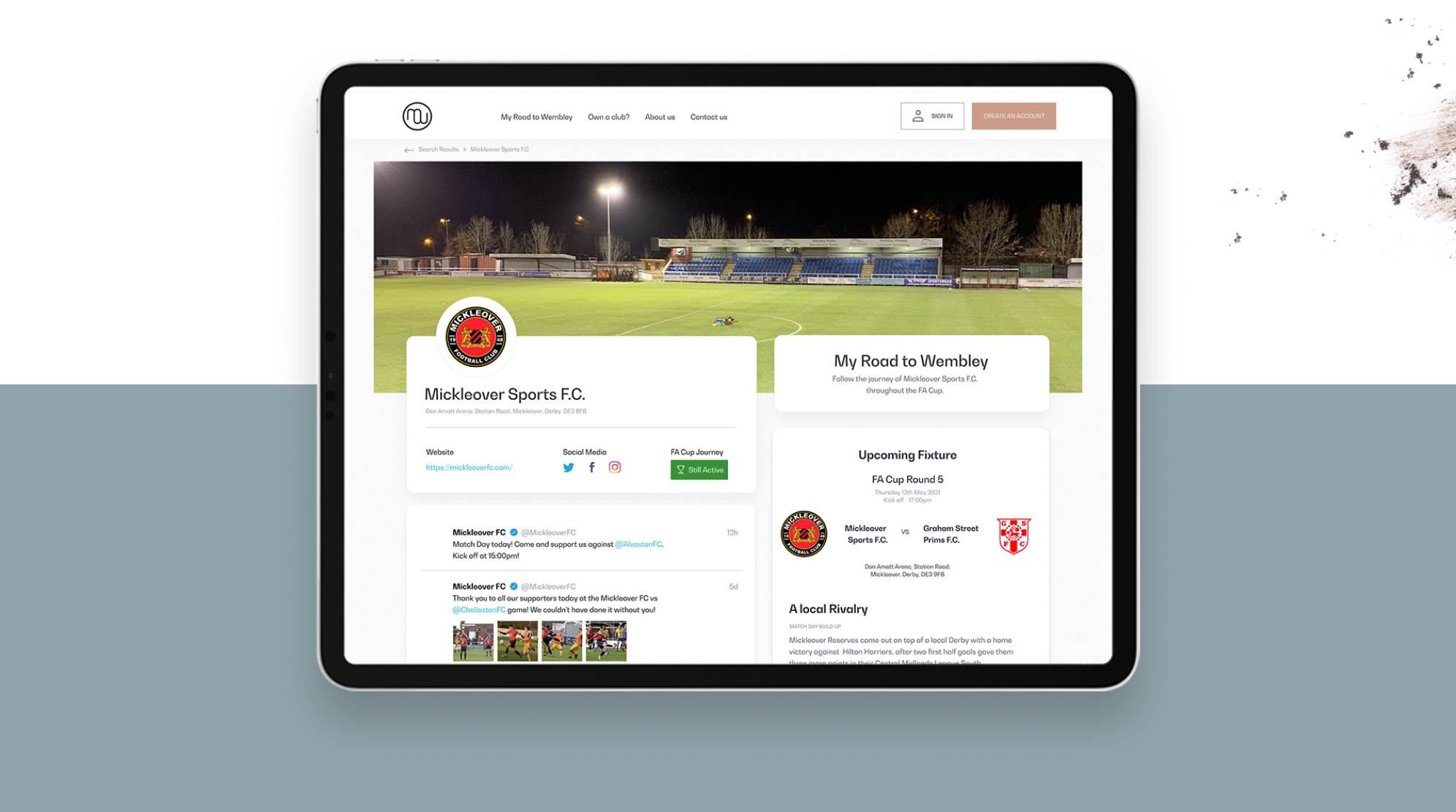 Got a project? Let's chat…
Have a chat with one of the team on 01332 742 658 or fill in our contact form, to discuss how we can help you.
Get in touch!
Dont stop yet…
Why don't you have a look at more?