Google Search Console: How to use it to help SEO?
22nd Jun 2021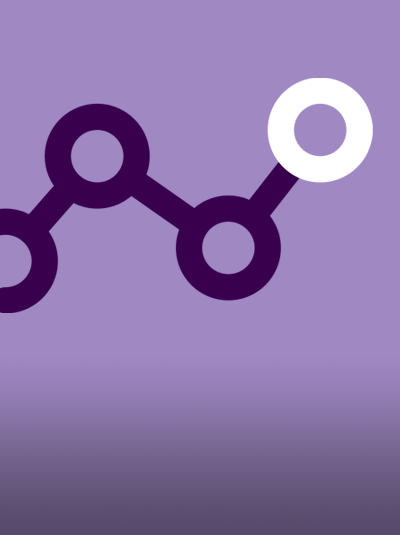 If you have a website (or maintain someone else's), you should already know the importance of monitoring its performance to drive valuable online traffic. But, have you heard of Google Search Console?
In this blog, we're going to explain what Google Search Console is, some of the services it provides and why marketers, SEO experts, web developers, and business owners should be using it.
What is Google Search Console?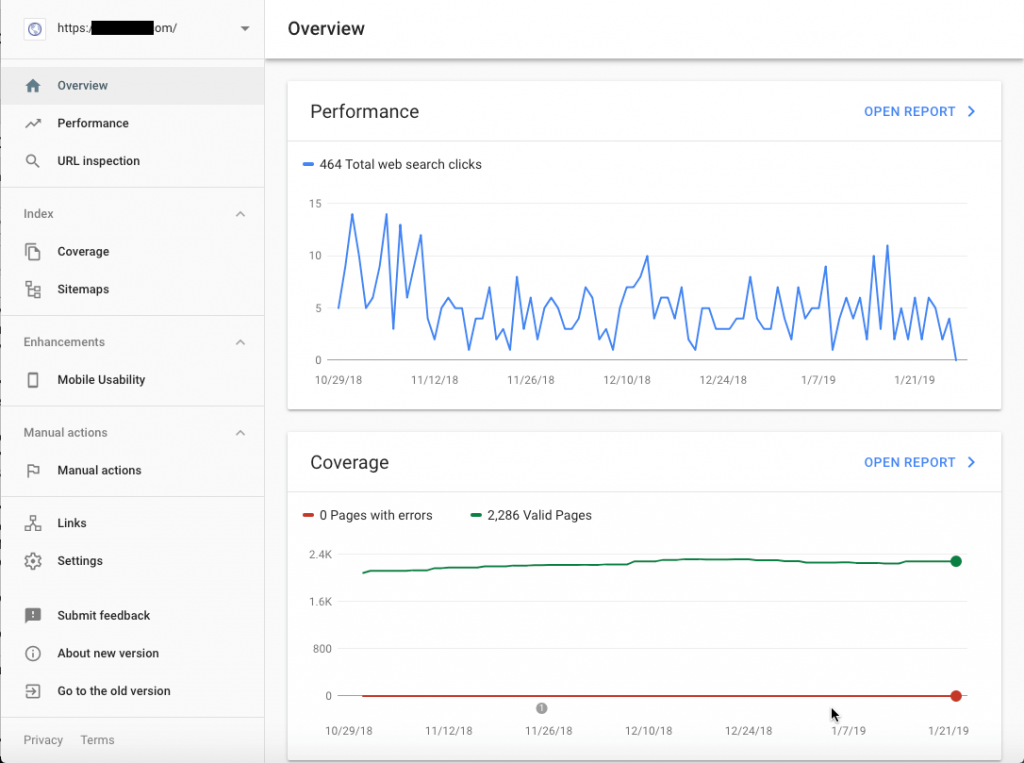 Google Search Console is a free service that allows you to look closely at website search analytics, such as your position on google search results.
If you don't quite get why your website's google search ranking matters, read our Beginners Guide to SEO.
Through a range of tools and reports, Google Search Console shows you website data such as:
Backlinks
Index coverage
Website Performance
Mobile Usability
URL parameters
Search Engine Results Page (SERP) Ranking
Crawl Errors
Keywords
Sitemap issues
So much more!
Why & How to use Google Search Console for SEO?
Understand your website's search engine position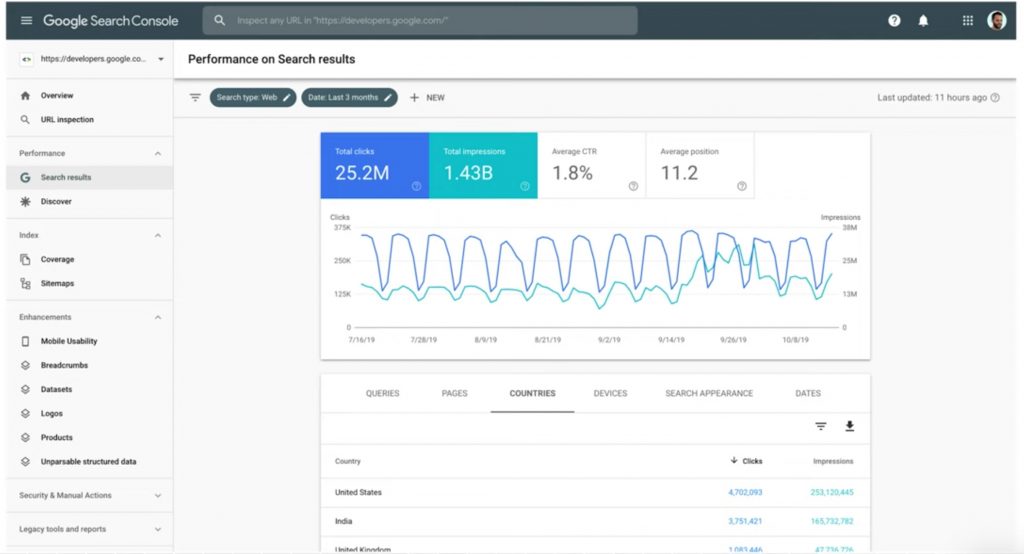 Starting with my personal favourite, Google Search Console allows you to see how your website pages are performing on Google search results. Through this tool, you can see:
How often your page appears in search results.
The page's current SERP position.
Page click-through rate.
Special features related to your results (such as rich results).
Which devices your organic search visitors are using.
The countries your organic search traffic is coming from.
Search Queries or keywords that are most likely to show your web page.
The Pages tab
This tab within Google Search Console shows you how many clicks and impressions your web pages get and provides you with the click-through rate (CTR) and average search result position for them. This data will help you understand which of your pages need improving so that they move up search results and bring more valuable traffic.
Once you have this information, other digital tools can provide you with suggestions on how to improve your web pages to boost your SEO ranking. I like to use SEMrush, as it gives me a range of optimisation recommendations such as content ideas, backlink ideas, technical SEO suggestions (you can learn more about it in our blog about the four pillars of SEO) and more!
The Queries tab
This tab, part of the Performance Search Results tool, will help determine what keywords or phrases you should be using on your website. By clearly seeing which queries your site appears for, and how often searchers click through for those queries, you can evaluate your existing keywords to ensure they're adding value. If the keywords you think are going to appear, don't, then you should be changing your website's content to be more relevant to the queries you've been given by Google Search Console.
Want to know more about how keywords influence your website's Search Engine Ranking? Read our Keyword Research Guide here.
Understand and improve your website's mobile usability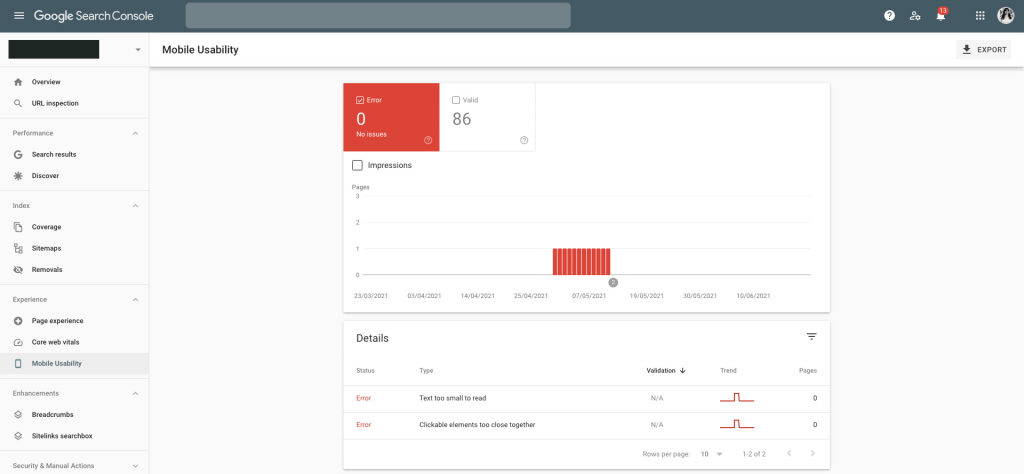 Mobile users account for approximately half of all web traffic worldwide, so optimising your website to ensure it's mobile-friendly should be a priority.
Google Search Console shows which of your website pages have mobile usability problems such as:
Viewport not set.
Viewport not set to "device-width".
Content wider than screen.
Text too small to read.
Clickable elements are too close together.
Not only can you see the mobile optimisation issues, but Google Search Console also lets you click on specific issues, explains which pages the issues are on and provides suggestions on how to fix them.
Making sure that your website is mobile-friendly will boost your website's SEO visibility and improve conversion rate & bounce rate too!
Integrate Google Search Console with Google Analytics

Google Search Console and Google Analytics show different metrics. Showing you the behaviour of who has visited your website, Google Analytics is user-orientated. Google Search Console focuses on the search engine side, providing insight on how to improve SERP ranking.
To get an in-depth, holistic view of your website's data, you can connect the two tools together. Find out how to link them, here.
See which of your pages appear on Google Search Results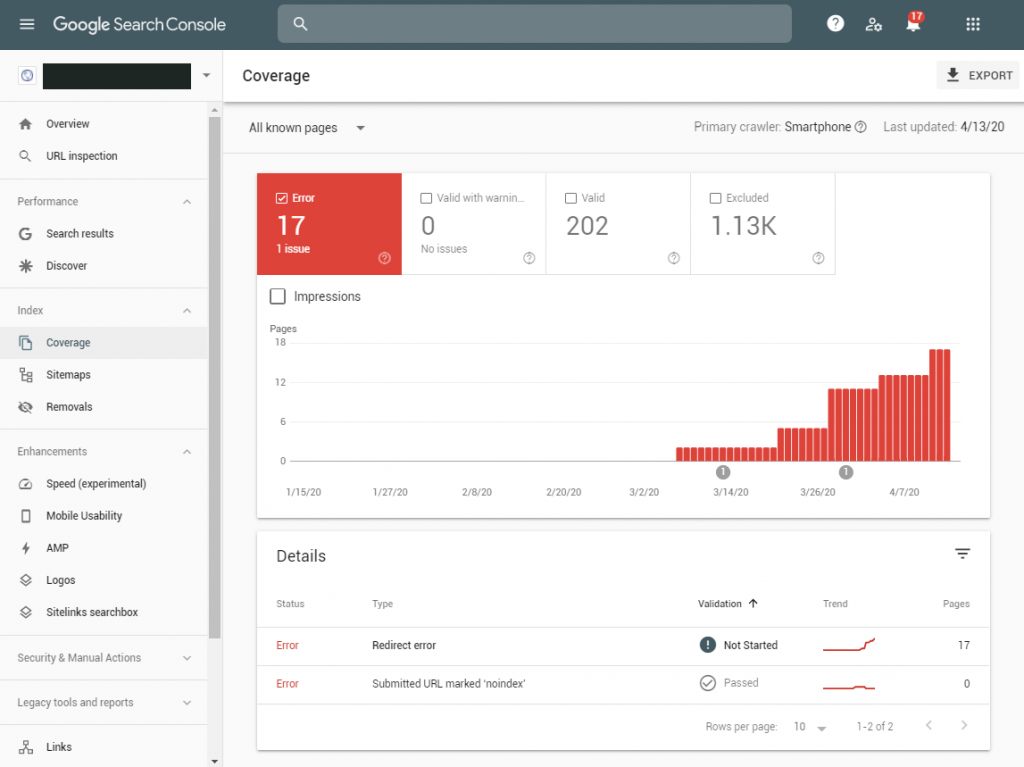 92% of searches are being done through Google (rather than Bing for example), so you need to be appearing in Google's search results. If your webpage isn't indexed by Google, then it simply won't show up in Google Search Results.
Google Search Console shows you which of your URLs have been crawled, therefore which have been indexed by Google. As well as showing you which have been indexed, Google Search Console also shows you which haven't and why.
This is a great tool for understanding why your pages may be missing from Google's search results and enable you to rectify the issues quickly.
Quick tip: It can take time for Google to index your page; allow at least a week after submitting before running Google Search Console's Index Coverage report.
Receive error alerts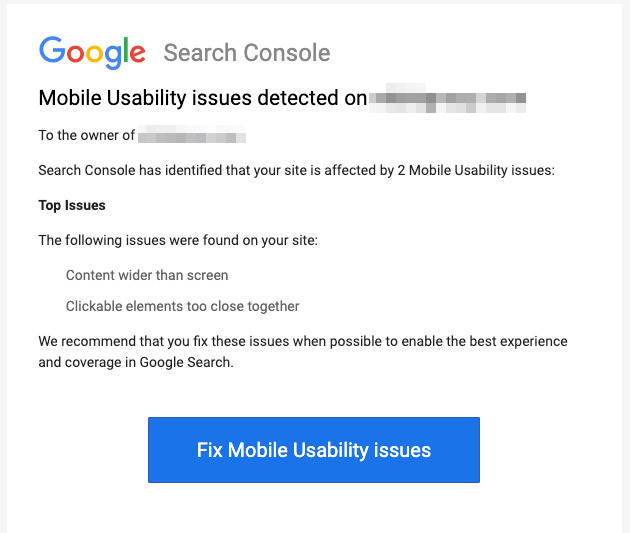 Google Search Console has a variety of error reports that explain how to fix performance issues on your website. The errors that you can see are:
URL and Indexing Errors
404 Errors
Server Errors
Redirect Errors
New Product Issues Detected for Site
Mobile Usability Errors
DNS Errors
Robot Failure
You can set up automated error alerts to be sent directly to your inbox to help you identify and resolve problems easier. These crawl error alerts can be used to help keep you informed on your site performance and ensures that you can fix potential issues that may otherwise impact your SEO promptly.
You can share errors with your internal team, or web agency, so the right person can deal with the job. Google Search Console allows you to send a link to the relevant people that gives them access to that current issue's details page only, along with any validation history pages for it.
Setting up Google Search Console email error alerts means that you can promptly solve any issues your website has before it negatively affects your SERP ranking.
Understand and manage your website links
Links and high-quality backlinks are valuable SEO factors. If your website has lots of links to and from other sites, search engines will determine that yours is a reputable source, which will boost your website's SERP position.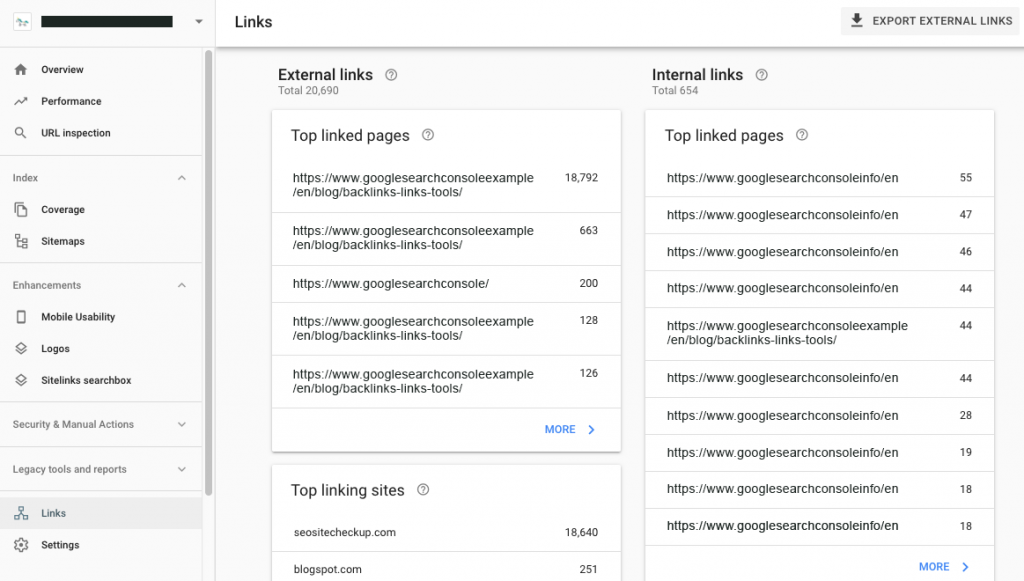 Google Search Console shows you a variety of Link reports. These reports are:
Top Linking Domains
This report shows you which sites link to yours the most. Use this report to make sure your website isn't linked to any 'spammy sites' that will harm your SEO ranking. You can ask these links to be removed, or disavow them if you can't remove them yourself.
Top Linked Pages
See which of your pages are linked the most by other sites. This report should be used to ensure your priority pages appear on the sites you'd expect them to be on.
Top Linked Pages from Specific Sites
Use this report to check if your website is linked to sites that may poorly affect SEO.
Top Linking Text
Look at the text that is linked to your site and ensure your website is being accurately described by others.
Links From a Specific Site to a Specific Page
This report helps you determine how users get from other websites to your pages. It shows you all the external links provided by others and where they go to.
Top Linking Sites
Find out what sort of websites are most interested in your pages with this report. It tells you what the top sites are that link to your specific pages. Use this information to expand the content on your website, by covering topics that relate to your top linked sites.
Top Linked Pages
Your home page and contact page should be the most linked pages within your website. You can see your most linked pages and edit your site accordingly with this report.
Internal Pages Linking to Internal Pages
Use this report to make sure your traffic flow is seamless. This report shows you which pages on your site link to each other. After checking, clean up your user journey to ensure your users get from page A to page B quickly.
Understand and Improve your Website's Page Experience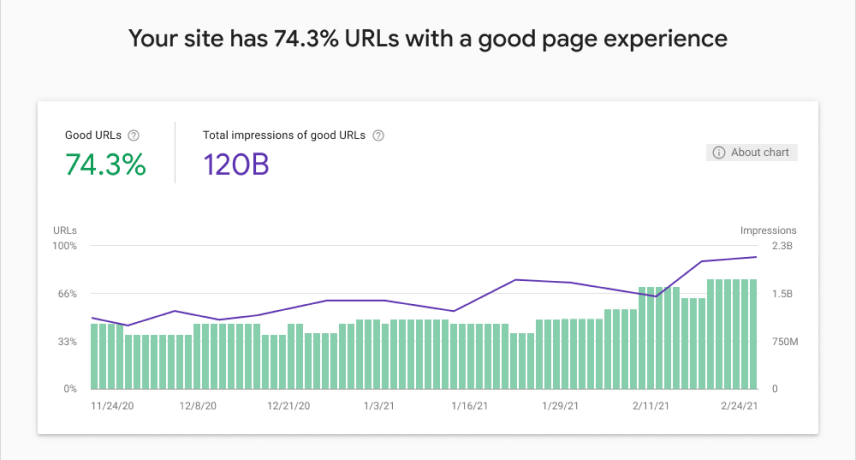 Page experience, how users perceive the experience of interacting with your web page, is an important aspect of SEO. Your website needs to have a good user experience (UX) to be able to climb up the ranks of Google's search results and this report shows you all the essential metrics needed for just that.
Google Search Console's Page Experience report helps you measure, monitor, and optimise your page experience:
Mobile-friendly test: Use this signal to see if your web page is mobile-friendly.
Safe-browsing: Use this signal to make sure your web page doesn't include any malicious content or security issues.
HTTPS: Make sure your site's connection is secure with this signal.
No Intrusive Interstitials: Check your website's accessibility with this signal.
Core Web Vitals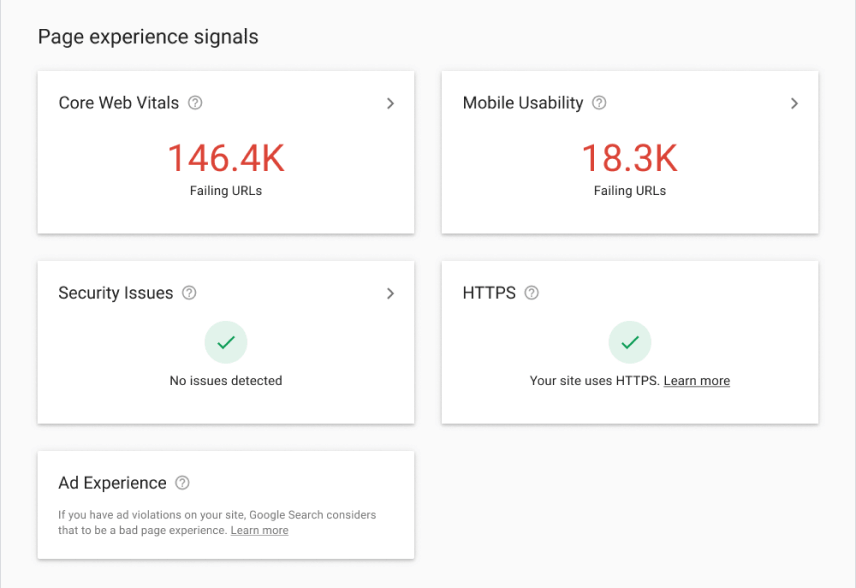 At the start of May 2020, Google Search Console introduced Core Web Vitals into the Page Experience report.
Google recognises that UX is based on loading time, interactivity, and visual stability. The Core Web Vitals report labels your URLs as "poor", "needs improvement" or "good" and provides you with recommendations on how to improve pages based on these metrics.
Some improvement examples are:
Reduce your page size to less than 500KB.
Limit the number of page resources to 50.
Consider using AMP.
If an issue needs fixing and is more technical than your ability, you can download a report and send it to the right person so that they can resolve it quickly for you.
Summary
Google Search Console is a fantastic data tool. It provides a long list of tools and suggestions that ensure your website is getting maximum search exposure.
If you're looking for an agency to support website performance, think3 can maintain your website for you. We use methods such as monitoring analytics, implementing functionality testing, and more to improve SEO.
Find out more about our website support and maintenance services at the link.
Thanks for reading!
Keep reading
We've got even more great content!