Recruitment Videos
Exciting and inspirational video that highlights your business as the place to be, get people clambering for a job with you.
Enquire now
You'll reach and keep the attention of a larger audience
As many organisations have already begun to realise, the traditional approach is no longer enough to maintain a competitive advantage when it comes to recruitment. With all the recent advancements in online and mobile technology, companies need to take advantage of the rise in popularity of these multimedia practices. Here is where recruiting videos come into play.
The fact that people prefer video over text is becoming more of a common factor in the workplace. Whether it's to do with the importance of mobile technology in the modern world or the notion that the attention span of the typical person is always decreasing, companies cannot deny the benefit of adding video to their recruitment channels.
Individuals can easily access recruitment videos on sites like YouTube and Instagram which also allow viewers to like and share. These interactive features not only engage the viewer but also position them as brand advocates, making sure that they obtain information on the company brand in a way that is appealing and easily distributed.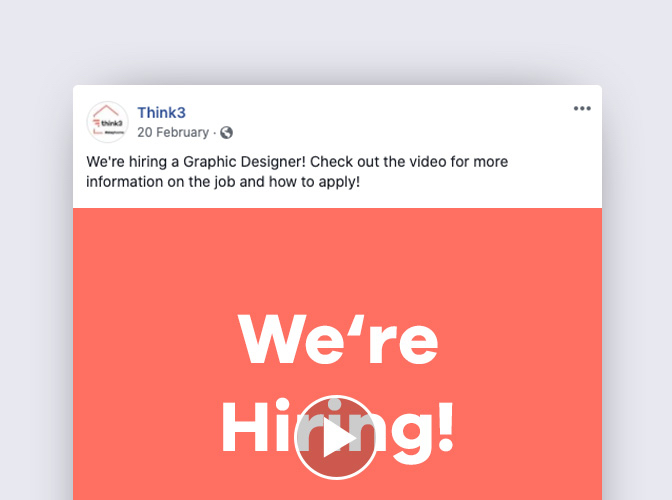 You'll appeal to the newer generations of talent
The future of the workplace is already here. If poaching the greatest and freshest candidates out of the talent pool is not a part of your recruiting strategy, you've now fallen behind all the companies that have already begun.
Embracing the benefits of video recruitment is a vital part of this. The 25-34 (millennial) age group watches the most online videos and men spend 40% more time watching videos on the internet than women. These candidates are the tech-savvy and visionary workforce that will expand your growth and drive innovation – if you can capture their attention.
100 million hours of video content are watched on Facebook daily and that Instagram has more users than Twitter among 16 – 44-year-olds, and companies cannot deny that social media and video recruitment are some of the best ways to attract generations Y and Z.
In just a few short years, millennials will make up nearly half the workforce. By 2030, they'll be 75 percent of it. Getting the best of these generations will inevitably require the rejection of the old and traditional recruitment styles in favour of more trendy and efficient means.
Got a project? Let's chat…
Talk to us today to discuss your video needs!
Showcase your company culture
The goal of a good recruitment video is to show potential candidates what life would be like if they worked for your company. This is something that cannot be learned over the phone or even in a single in-person interview.
Use a recruitment video to show an authentic portrayal of an actual day in your business. This provides an opportunity to showcase the true feel of the office and turn the location, aesthetics, and personalities that make up the company into selling points.
Show the commute view, the front entrance, a typical desk set up, the kitchen where they'll have lunch, and places where they'll hold meetings. Interview staff, the potential colleagues of the viewer, and get their insights into why your business is a great place to work. The easier it is for candidates to visualize themselves at your company, the purer their assessment will be.
Companies that do not hesitate to show their true colours ensure they attract the type of candidate that match that vision and culture.
Related Services
Don't stop yet…
Why don't you have a look at our projects?