6 Benefits of Outsourced Marketing in 2022 (updated)
19th May 2020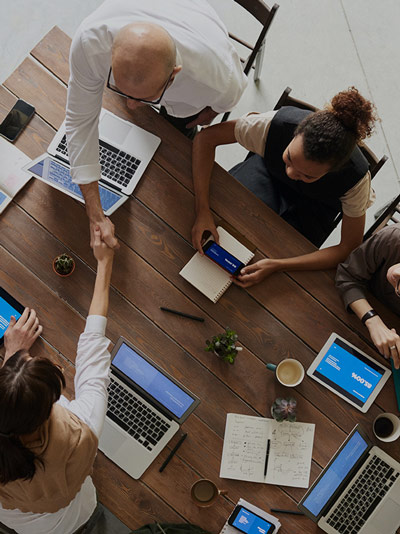 During times like this, there is an air of uncertainty over the business world, people are unsure of how their business will cope or even survive this unprecedented situation and now businesses are considering what a new normal will look like. You might want to consider adopting an outsourced marketing model. In this article, we are going to cover the 6 Benefits of outsourced marketing.
Marketing has been an area over recent months where businesses have chosen one of three routes, cut back to save money, keep marketing but adapt our messaging or continue business as normal. There's been no right or wrong answer to those approaches, time will tell for those who have done well at this time. So what is the right move going forward? Where should you focus your marketing efforts over the coming months?
What is outsourced marketing?
Let's start with the basics, what does outsourcing your marketing actually mean? Well, it's exactly what it sounds like. It means using an external agency to manage your marketing activities. You can entirely outsource and replace an existing internal team, or you could use an agency to complement an in house team.
Why would you outsource marketing activities?
One of the key benefits of having an outsourced marketing team is actually that it can save you money. Many businesses believe that outsourcing any activity, whether that's marketing, IT or finance is expensive and would cost more. That's not true – 71% of UK businesses are planning to outsource to save money! Using an outsourced team can actually result in a cost-saving and deliver a greater return on your investment. We have saved a number of clients' money on their existing internal teams by either outsourcing entirely to us, or, using us as an enhancement to their existing team.
Is outsourcing marketing right for me?
If you are wondering if outsourcing all, or just some of, your marketing is the right decision for your business, you're in the right place! One of the biggest benefits of outsourcing your marketing is that it gives you access to a wider variety of skills. If you chose to outsource your marketing, you are able to access multiple marketing professionals who will understand and make the best decisions for your business. They will be able to point your company in the right direction using the correct techniques and marketing strategies to help to grow your marketing presence within your marketplace. What are some of the Benefits of outsourcing Marketing?
Outsourcing marketing can be beneficial for any of the following:
Need additional expertise that doesn't exist within the in-house team
Want to reduce overall spend on marketing
Need a fresh perspective on marketing activities
Don't want to commit to a long-term contract through staffing
Not ready to employ someone full time but don't have the time to do it
Planning for growth and need flexibility and scalability
Am I just another client?
A common misconception with outsourced marketing is that they are external to my business, will they really understand my business? Will they really care about marketing me? The answer is yes; outsourced marketing, whilst external, is an extension of your business. We work in partnership with you and our teams will gain a deep understanding of the way that you work and your processes, in order to best fit within your organisation. Available at a minute's notice to provide advice and guidance or to design a marketing campaign, an email campaign or marketing material that will blow your target market away.
What marketing activities can be outsourced?
We pride ourselves on being a full-service digital marketing agency. Depending on your individual needs, you can outsource some or all of the following to an agency like us. There are lots of Benefits of Outsourced Marketing and lots of services that can be outsourced such as:
Before we commence any work, we'll develop your marketing strategy that aligns with your business goals and objectives. That way, before we start creating great content for you, we can ensure that a marketing plan achieves your marketing goals and will allow us to monitor and report back to you on performance and plan for future marketing needs.
Integration into the way you work
Outsourced marketing gives you access to fully integrated campaigns that are able to run throughout the year. Communicating effectively and conveying your brand message out to your target markets and interpreting the analytics and data that is retrieved on those campaigns in order to review and improve the way your business markets in the future. This data can also be used in other areas of your business to better understand how your target customers think, behave and engage online.
Marketing during growth or decline, scaling up and down
One thing that is very difficult to do with an internal marketing team is to quickly and effectively upscale or downscale your marketing activity. This can include hiring and firing members of the team which can take months! In order to get you to where you want to be.
With an Outsourced marketing team upscaling or downscaling your team is as simple as a phone call. Dependent upon your budget, you may want to cut back on your monthly spending and may not need as many skilled marketeers working for you during some of your quieter months. Whereas if there is a spike in business, you need to be able to quickly adapt your marketing strategy, possibly by adding a project manager and a new marketing executive with specific knowledge of SEO to capitalise on this new business venture. This is all a possibility with an outsourced marketing model like ours.
A fresh perspective
An outside perspective can be hugely beneficial to a business. Previously in this article, I mentioned that the outsourced marketing team is an extension of your internal team which is still true. Although they are still able to draw upon their years of marketing expertise with multiple companies in order to offer your business a new perspective, a new avenue that may not have been considered before. Sometimes when you have been marketing the same business for a number of years things can become slightly stale, it's hard to come up with fresh new ideas that keep your business at the forefront of the industry. An external vantage point can give your business the creative spark and push that it needs in order to stay current with marketing trends, social media and campaign ideas.
We make sure that our marketing teams stay up to date with the latest trends and marketing concepts and are able to implement these into your business in areas that you may have never considered.
How long do I have to commit for?
Generally speaking for new clients, we only look for a short term commitment, that gives both you and us the opportunity to review the effectiveness and make sure that we can provide you with the right service you need. Initially, we'd look to an initial trial period of around 3 months. Beyond that and once we've done a great job for you, we'll work with you in the most flexible way.
Now might be the right time for your business to consider an outsourced marketing model to start reaping the rewards and seeing a real change from the benefits of outsourced marketing, in how your business markets itself.
If you think now's the right time, or want to find out more information on how we can support you with an outsourced marketing model get in touch. We'd be happy to discuss the Benefits of outsourcing Marketing.
Keep reading
We've got even more great content!